We are Discussing In-House — Eguavoen on Jose Peseiro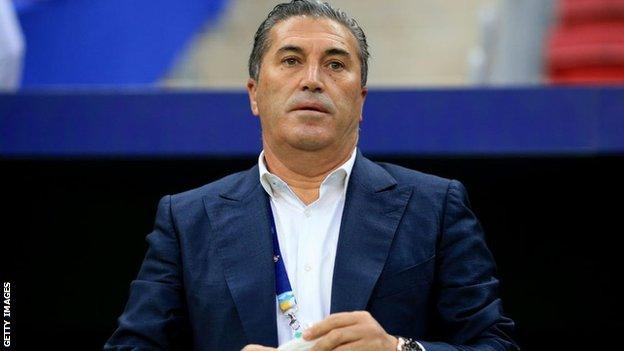 The Nigeria Football Federation (NFF) has confirmed that negotiations are underway with head coach Jose Peseiro regarding a new contract for the national team, the Super Eagles.
Peseiro's previous contract with the NFF expired last month, prompting discussions about his future with the three-time African champions.
Reports suggest that the Portuguese coach has been offered a reduced salary to continue leading the team, and he is reportedly open to accepting the revised terms.
Speaking on the matter, Augustine Eguavoen, the Technical Director of the NFF, indicated that Peseiro is currently in charge of the Super Eagles.
He stated,
"At the moment, he is in charge. We are discussing in-house, and we are giving him conditions as well."
Eguavoen further emphasized the flexibility of the NFF in reaching a mutually beneficial agreement, stating,
"We are flexible, so it could be suitable for both sides, and once we reach a common ground, why not?"
While talks are ongoing, Peseiro is expected to remain at the helm for the Super Eagles' upcoming fixture against Sao Tome and Principe in the 2023 Africa Cup of Nations qualifier scheduled for September.
This dead rubber match will serve as an opportunity for Nigeria to fine-tune their preparations and provide valuable game time for both established and emerging players.
Jose Peseiro, who has previously coached national teams such as Saudi Arabia and Venezuela, took charge of the Super Eagles in February 2022. During his tenure, the team has shown promising performances, displaying a blend of experienced players and promising talents.
The NFF's decision to engage in discussions with Jose Peseiro reflects their appreciation for his contributions and their desire for stability within the coaching setup.
As the negotiations progress, football enthusiasts and Nigerian football fans eagerly await an outcome that will ensure the continued progress and success of the Super Eagles.
The NFF remains committed to building a cohesive and competitive national team, and securing Jose Peseiro's services for an extended period could provide the necessary continuity to achieve their objectives.