Why Yam Is Costly In Market – Farmers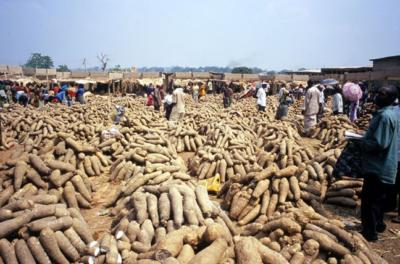 Most yam farmers and sellers in Benin have observed that the cost of the produce is not connected with the recent approval given by the Federal Government for yam export.
In separate interviews on Sunday in Benin, they noted that beside the high cost of farm implements such as cutlass and pesticides, high cost of labour has contributed to the prevailing market price of the produce.
Farmers specifically attribute the high cost of yam to amount of money demanded by land owners where they cultivate the produce.
They, nonetheless, admit that there is bumper harvest of the produce this year when compared with the previous season.
A farmer, Mr Oghakachi Mohammed, said "until there is drastic reduction in the cost of farm inputs, next season might not be different in terms of cost of yam.''
According to him, a cutlass is now sold for between N2, 000 and N2, 500 instead of N1, 000 in 2016, while the cost of labour per day has risen.
"You will agree with me that all this is shifted to the final production cost and subsequently will affect the price at which we sell to the sellers,'' he said.
Another farmer, Alhaji Abdulahi Mohammed, said high cost of pesticides which had risen from N200 to about N1, 500 had also affected the cost of yam.
"I think the government needs to do something urgent about this; when a farmer pays as much as 30 per cent as interest on loans, among other expenses, it will definitely reflect in final price for such produce.
"Some farmers pay much for the land to cultivate this produce unlike in the past when a farmer could give tubers of yam to land owners after harvesting.
"The situation now is that some pay as much as N10, 000 per hectare yearly in addition to the tubers of yam to the owner of such land.
"We have more harvest of yam this year but unfortunately, this has not reflected in the price of the produce due to the factors that have been listed,'' he said.
Mrs Comfort Mohammed, a yam seller in Benin, said "the essence of business is to make profit, but we also grapple with high price from the farmers.
"Of course, you need money to run a successful business and the loans come with a price in form of high interest.''
Another yam seller, Mrs Joy Paul, admitted that yam was not in short supply this season, noting that the price ought to be much lower.
"We have more yam produce this season than we had last season because of number of factors, because more people went to farming this year than last year.
"However, instead of lower prices, we are experiencing high prices because of the factors associated with high cost of farming.
"There is a farmer I buy yam from, when I priced heap of yam from him, he opened a book and simply told me he could not sell at the price I offered.
"He said the book contained the expenses he incurred and that it would not be profitable for him to sell it the price I offered.
"What I am saying is that government must find a way of making things easier for yam farmers and sellers for Nigerians to lower prices,'' she pleaded.