Super Falcons star, Ashleigh Plumptre hints at new club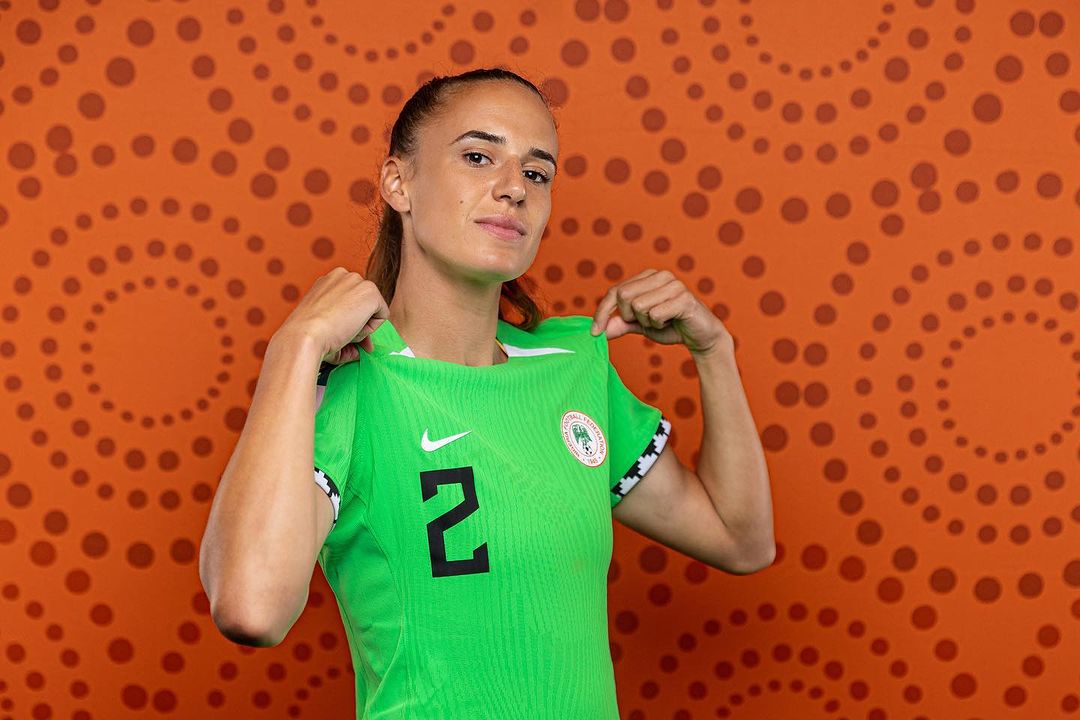 If I wasn't playing for Nigeria I wouldn't be playing for anybody — Ashleigh Plumptre on choosing to represent Nigeria.
Super Falcons defender and former Leicester City star, Ashleigh Plumptre has revealed new details on her next club following her exit from Leicester City Women's team prior to the World Cup.
The former England youth team international in a recent podcast with Eagles Tracker's host, Ayo T, talked about a variety of topics including her next club after running down her contract with the English club.
Although she chose to remain coy on the subject, Ashleigh Plumptre however has hinted she would no longer be playing in the Women's Super League in the English set up.
According to the Falcons' Left-Back, she has agreed to a move away from England ahead of the new season.
However, she chose to keep the club's identity hidden as no official announcement has been made on the club's front.
"I can't actually reveal the team yet because it's not been announced," Plumptre said.

"The team I am going to is the same thing I spoke about in terms of my reason for playing for Nigeria.

"I was completely sold by the coach. I'll be honest, I wasn't actually interested in the team initially, then I had a call with the coach and we spoke about the things I just said. We spoke about more than football. All the things we want to do in football. The impact I want to have and the connections I want to make,

"Where I am going just completely aligns with who I am. Yeah, it will be difficult. I am excited and yeah, I am actually going abroad," she revealed.
There were earlier rumors reporting on a move to Women's Super League team, Manchester United for the Super Falcons star, which Ashleigh Plumptre debunks in the interview.
Though not going into detail on what she hopes will come next for the Nigeria Super Falcons team, she hoped for consistency moving forward for the team, addressing the need for some continuity following their performance at the World Cup.
The former Leicester City Centre-Back spoke on the importance for the team to have more training camps that brings the Nigeria team together for more international friendly games, contrary to how the Falcons team fared prior to the World Cup.
Amongst a lot of things the Nigerian defender spoke about on the podcast, she re-emphasized her commitment to the Nigeria Women's team.
Asked if she regrets playing for Nigeria, Ashleigh Plumptre said;
"I've had so many people be like if you could, would you switch back to England, and I'm like, people don't just listen. 

"I don't play football just to try and like play for the best team. I feel quite different to a lot of people. My ambitions in football are not necessarily just to win something tangible. 

"Football is part of my life journey, like I feel fulfilled when I can be a part of something bigger, and I can like connect with people in a way that I'm not able to

"People are not understanding the reason why I made the decision to play for Nigeria in the first place. So I get quite passionate about this. But if I wasn't playing for Nigeria I wouldn't be playing for anybody.

"It'll be that or no international football, that's what I mean," Plumptre said.