Cobhams, Affiong Williams, Oluyomi Ojo others emerge JCI Ten Outstanding Young Persons of Nigeria list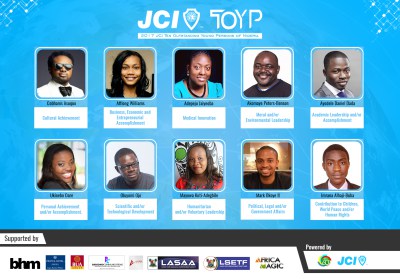 Critically acclaimed music producer, performer and songwriter, Cobhams Asuquo, Founder /CEO ReelFruit, Affiong Williams, Founder/CEO Printivo, Oluyomi Ojo and seven other young Nigerian professionals have been announced as honorees in the 2017 Junior Chambers International Ten Outstanding Young Persons (TOYP) Awards in Nigeria.
Cobhams was recognized for Cultural Achievement, Affiong for Business, Economic and Entrepreneurial Accomplishment and Oluyomi for Scientific and/or Technological Development.
The 34-year-old awards ceremony, organised by Junior Chamber International has served as a platform to recognize and celebrate young persons under the age of 40 who have excelled in their chosen fields of endeavour and created positive change in their communities across the world.
Honorees for 2017 also include Imrana Alhaji-Buba, Founder, Youth Coalition Against Terrorism for his Contribution to Children, World Peace and/or Human Rights, Mayowa Ashake Kuti-Adegbile, the CEO, Ashake Foundation, for her Humanitarian and/or Voluntary Leadership, Adepeju Jayeioba, Founder Brown Button Foundation for Medical Innovation, and Akomaye Peters-Benson, CEO Jaymak Energy for Moral and/or Environmental Leadership.
Mark Okoye II, Commissioner for Budget & Planning, Anambra state, for his work in Political, Legal and/or Government Affairs, Ukinebo Dare, Founder, Poise Graduate Finishing Academy for Personal Achievement and/or Accomplishment and Ayodele Daniel Dada, who shattered a 54 year old academic record at the University of Lagos (UNILAG), graduating with a CGPA of 5.0, was recognized for Academic Leadership and/or Accomplishment.
On Saturday, August 26, Junior Chamber International Nigeria will be celebrating all 10 TOYP 2017 Award recipients at a lavish ceremony in Lagos, which also doubles as an anniversary gala to mark the 60th year of JCI's presence in Nigeria.