The Harry Kane Curse? Fans unearth conspiracy theory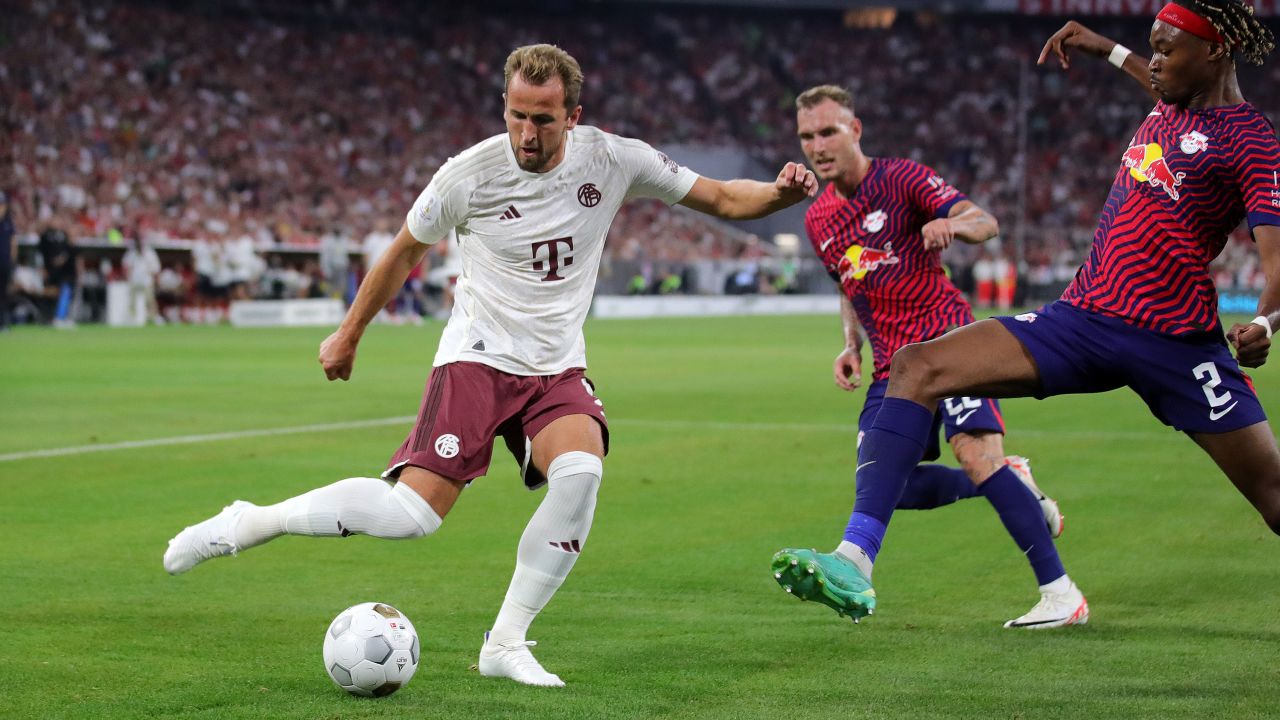 You can take the man out of Tottenham Hotspur, but can you take the Spurs out from the man…?
Former Tottenham Hotspur star, Harry Kane started his Bayern Munich career on Saturday in a DFL Super Cup final versus RB Leipzig in a 3-0 defeat, and the internet hasn't let the England international have a breather with conspiracies surrounding a 'Harry Kane Curse'.
The football world could be a toxic place for a player who spends a lot of time on the internet especially after a defeat on their debut game for their new club.
According to fans, they believe that Harry Kane has taken the club's curse with him to the Bundesliga club following his nightmare debut against Leipzig.
Following a dramatic transfer battle, Bayern were able to get their man from Tottenham, in time to feature in Saturday's feature after completing his £100 million move.
However, Harry Kane's introduction wasn't the start he wanted despite making his debut after the hour mark to replace Mathys Tel.
Kane was unable to inspire any comeback after his team trailed 2-0 to Leipzig at the Allianz Arena in what was a stunning show by Dani Olmo who bagged a hat-trick for Leipzig in a 3-0 rout against the German Champions.
Harry Kane had reportedly left Tottenham Hotspur for a new challenge that includes title honors in his career cabinet, the DFL Super Cup was his first chance at achieving one of those goals, which ironically fell to the side of the opposition.
This led to some section of the English fanbase taking to Twitter to troll Harry Kane on the curse subject.
One Twitter user wrote:
"Harry Kane has actually brought the Spurs trophy curse to Bayern."
While another tweeted:
"Harry Kane has taken the Spurs curse of not winning trophies to Bayern."
A third added:
"It might have been Kane curse all along, not Spurs."
Another user also managed to add on to the 'curse theory' by tweeting;
"Harry Kane carried the Spurs' curse to Bayern."
However, one believes it might not necessarily be Spurs who is cursed but the man himself.
"Harry Kane is actually a curse. Spurs might do the quad now."
Harry Kane has two League Cup/EFL Cup runner-up medals from the 2014/15 and 2020/21 season as well as a Champions League runner-up medal from the 2018/19 campaign, which are just about the silver medals he has including on the international level where he holds a runners-up medal for the Euros.
New manager, Thomas Tuchel expressed sympathy for the England international in his post-match press conference, saying;
"I'm just sorry for him. He probably thinks we haven't trained for four weeks.
"Our performance today had nothing to do with what we set out to do. It's a very bitter evening, I'm sorry."