Power drunk politicians funding bandits – Governor Matawalle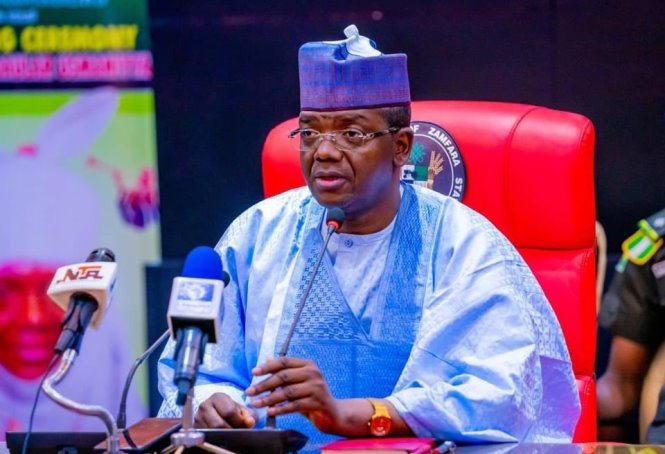 The Governor of Zamfara State, Bello Mohammed Matawalle has promised to arrest any politician who enters the state with the aim to use bandits to cause trouble.
As indicated by Matawalle, there is no one that can profess to be above the law of the land, promising that he had drawn a battle line with the enemies of peace in the State.
He revealed this at the Government House in Gusau, the state capital when the Nigeria Governors' Forum's delegation led by Governor Kayode Fayemi of Ekiti State visited him over the release of 279 schoolgirls in Zamfara State abducted last Friday.
Governor Matawalle cautioned, "These power drunk politicians cannot stay in Abuja, Kaduna or anywhere in Nigeria and be instigating crisis and be sponsoring terrorism in the state, killing thousands of innocent citizens of the state for selfish interest."
He warned that no one is a sacred cow, or untouchable, emphasizing that he is now in charge of the affairs of Zamfara State, challenging any of the political leaders to dare him and see the consequences.
It could be recollected that on Sunday when the Federal Government delegation visited him at the Government House, the governor said that numerous people would be astonished when the sponsors of banditry would be revealed.
Governor Matawalle claimed that many important personalities were firmly behind banditry in the State and that their transgressions would before long discover them out.
Banditry is a type of organized crime committed by outlaws typically involving the threat or use of violence.
Banditry violence has affected populations living in Zamfara, Kaduna, Niger, Sokoto, Kebbi and Katsina states in the northwest of Nigeria. About 21 million people living in these states have been exposed to insecurity from activities of bandits.
Zamfara, one of the security dark spots in Nigeria is caught between herder-farmers clashes and kidnapping and banditry.
The Governor of the Zamfara State, Bello Matawalle  in 2019 initiated a peace and reconciliation  plan to bring the bandits who attack and kidnap villagers back home offering them jobs in place of kidnapping and banditry.