Pastor Adeboye's wife receives Africa Leadership Award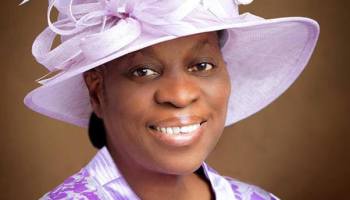 The Wife of the General Overseer of The Redeemed Christian Church of God Worldwide, Pastor Folu Adeboye,   was among  guests honoured at the Firstgate Africa Leadership Award and the 10th Anniversary/Convocation Ceremony of the Firstgate Optimus High School, Mowe in Ogun State on Friday.
The Hall of Fame Award, which was given to her, was received by a representative from the church.
Other award recipients included Mrs. Olabisi Akinola-Okereafor, Innovative Leadership Award; Pastor Femi Oyewole, Exemplary Leadership Award; Mr.Benjamin Obahor, Nurturer of Talents Award, among others.
In his keynote address titled Nation Builders: The Beacon of Light, the Chief Guest Speaker, Prof. Chryss Onwuka, said the government must address challenges posed by epileptic power supply, inadequate teachers and insecurity if entrepreneurship education must succeed in the country.
He said, "The demand for learning is quite high and the number of teachers who are trained to teach ICT cannot meet the demand. There are more pupils willing to acquire entrepreneurial skills than there are teachers to transfer the skills.
"Many schools have yet to be connected to the national electricity grid. Consequently, those schools are handicapped. Some of the equipment are industrial and require big generators as against small generators available in most schools.''
Onwuka, who is of the Department of Animal Nutrition, Federal University of Agriculture, Abeokuta, Ogun State, also advised the graduating pupils  to embrace good morals and academic excellence  in their next phase of life.
"You will soon find out that the world is full of temptations, crime and evil deeds. Resolve within you today that you will not join the bandwagon. Do not spend your time gossiping.  If you fail to be the light of the world, you would have wasted your time here and how sad that would be,'' he said.