Man Arrested For Smuggling Firearms From The United States To Nigeria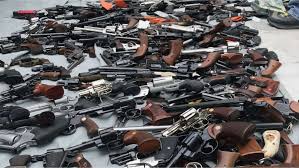 Eric Fru Nji, a Maryland resident, has been sentenced to 63 months in federal prison and fined $25,000 for conspiracy, transporting firearms with obliterated serial numbers, and smuggling firearms and ammunition from the United States to Nigeria.
Nji and his co-defendants, Wilson Nuyila Tita and Wilson Che Fonguh, were convicted of the charges in May 2022 after a two-week trial.
The three conspired with others to export firearms, ammunition, and military-typed items to separatists fighting against the Government of Cameroon.
The group secreted 38 firearms, including sniper rifles and SKS assault rifles, along with high-capacity magazines, rifle scopes, and over 35,000 rounds of ammunition, in a shipping container destined for Nigeria.
The defendants communicated using an online encrypted messaging application and code words to conceal their activities. Fonguh, Tita, and seven other defendants charged in related cases are awaiting sentencing.
The investigation was conducted by Homeland Security Investigations (HSI) Baltimore, the Bureau of Alcohol, Tobacco, Firearms, and Explosives (ATF) Baltimore Field Division, and several other agencies.