Bukayo Saka signs new long term contract with Arsenal
In a major development for Arsenal Football Club, talented young winger Bukayo Saka has officially signed a new long-term contract, as confirmed by renowned football journalist Fabrizio Romano on his Twitter account.
This deal marks a significant achievement for the Gunners, following a verbal agreement reached back in February.
The news of Saka's contract extension has ignited excitement among Arsenal fans, who have eagerly awaited official confirmation of the young star's commitment to the club.
Saka's decision to extend his stay at the Emirates Stadium comes as no surprise to avid followers of the club, given his remarkable performances and consistent displays of quality on the pitch.
The 21-year-old has quickly become a fan favorite and an integral part of Mikel Arteta's squad, showcasing his versatility by seamlessly transitioning between various positions, primarily as a winger and full-back.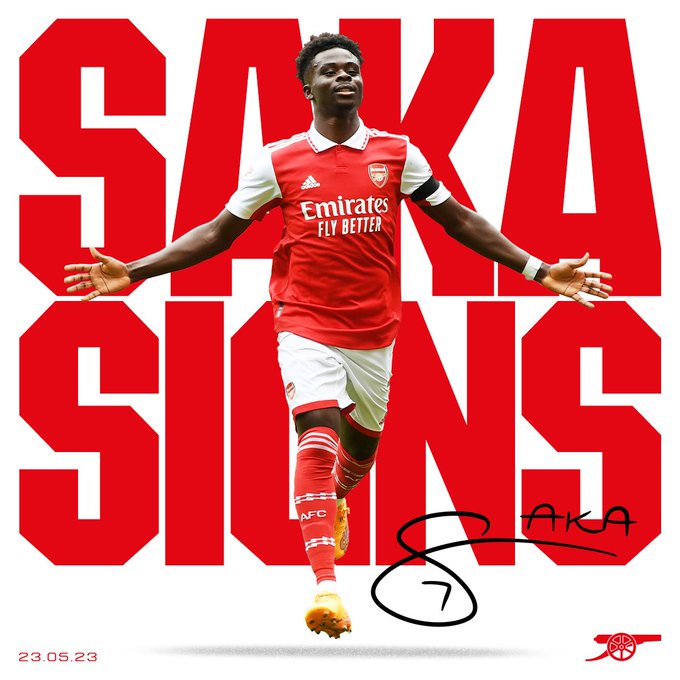 Since breaking into the Arsenal first team, Bukayo Saka has showcased his exceptional talent, combining technical skill, vision, and maturity beyond his years. His ability to contribute both in attack and defense has garnered widespread admiration, making him an invaluable asset to the Gunners' success.
The negotiations for Saka's new contract have been ongoing for several months, with the Gunners keen to secure the young talent's services for the long term. The agreement reached in February laid the foundation for the final contract, which has now been signed and sealed, much to the delight of Arsenal supporters.
Saka's decision to commit his future to the club is a testament to his belief in Arsenal's vision and the potential for success under the guidance of manager Mikel Arteta. It also reflects the confidence he has in the club's ambition to compete at the highest level and challenge for major honors in the seasons to come.
The news of Saka's contract renewal will undoubtedly boost morale within the Arsenal squad and provide a strong foundation for the club's future plans. The young winger's presence will be crucial in Arsenal's quest to reclaim their status as one of English football's elite clubs.
As Arsenal fans eagerly await the official announcement, the confirmation of Bukayo Saka's new long-term contract is sure to bring a renewed sense of optimism and excitement for the future at the Emirates Stadium.
Official, confirmed. Bukayo Saka signs new long term deal at Arsenal. ⚪️🔴✍🏻 #AFC

Agreement sealed as expected, big one for Gunners future project as previous deal was due to expire in June 2024.

🎥 @Arsenal pic.twitter.com/cp6WSAzDbd

— Fabrizio Romano (@FabrizioRomano) May 23, 2023