Bisade Ologunde: biography, age, family, net worth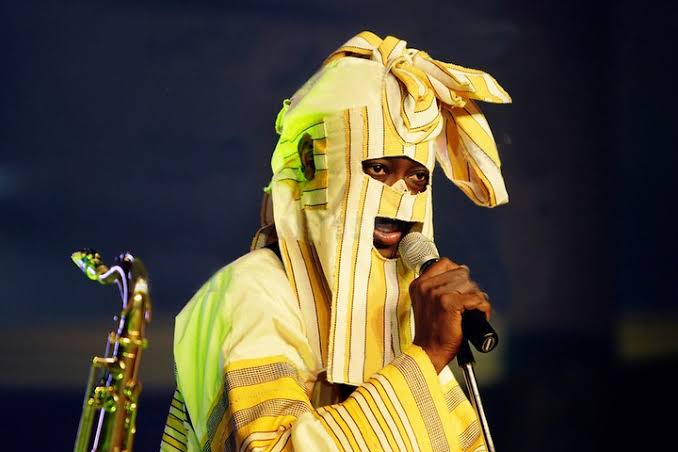 All you need to know about Bisade Ologunde 

popularly known as Lágbájá Let's take a look at his Biography, Nationality, Career, Age, Net worth, Family.

ABOUT
Bisade Ologunde is a Nigerian afrobeat musician, singer-songwriter and percussionist. Widely known as Lágbájá for his signature use of mask which covers his identity. He believes in social reform through music.

EARLY LIFE
Lagbaja born Bisade Ologunde was born in January 17, 1960 in Lagos State. He is from Odogun's Compound, Ijagbo Community in Oyun Local Government Area of Kwara State. Bisade is a Baptist by birth.

EDUCATION
Bisade Ologunde went to Obefemi Awolowo University.

CAREER
Ologunde adopted the name Lágbájá (meaning "Jane Doe" or "John Doe"- A person whose name, identity is intentionally concealed in Yoruba) as he embarked on his career in the early 90s. His name was reflected in his choice of stage attire – a slitted textile and rubber mask adopted so that the artist represented the 'common man' in keeping with the carnival tradition of his Yoruba tribe.

He formed his first small band in 1991 in Lagos after he had taught himself to play the saxophone. With a high quotient of percussion instruments including congas and talking drums,Lagbaja's album We Before Me (IndigeDisc/PDSE), released in 2000, demanded honesty from politicians and urged brotherhood and unity. In March 1997, he established his club called "Motherlan" in the heart of Ikeja in Lagos. He stated in an interview that the club was influenced by the traditional African town or market square, where people gather under the moonlight for ceremonies and artistic events like dance, music and storytelling.

Lagbaja whoose groovy fusion has been referred to as afrojazz, afrobeat, higherlife and afropop refers to his sound as Africano, alluding mostly to the central role of African drums and grooves in his music.

He shared lyrics of his songs with a backup singer, Ego Ihenacho, and equally plays tenor saxophone. With a firm, brawny tone akin to that of John Coltrane and Pharoah Sanders, he emblazoned the melodies of the songs, sometimes with Ego scat-singing along.

FAMILY
Bisade Ologunde moved his wife and two kids to the United States of America, where life is believed to be more secured and promising. Lagbaja has given his first daughter "Moyosade" away in marriage at a lovely wedding ceremony which took place at Motherlan' in Opebi, Lagos recently. She married her long-time beau, "Olamide Obilana".

Moyosade is a change management specialist at a US firm and she graduated from the Pennsylvania State University School of Management with a Masters in Business Administration.

PERSONAL LIFE
He mentioned in an interview that the mask and the name "Lagbaja" symbolizes the faceless, the voiceless in the society, particularly in Africa.

ACHIEVEMENT
In 2006, He Won Best Male Video "Never Far Away" at Channel O Music Video Awards.

He is an ambassador of the Telecommunication company, Globacom.

NET WORTH
Bisade Ologunde who is one of the longest serving ambassador of telecommunications giant Globacom is estimated to be worth $1 million.
😎PASS WAEC, JAMB-UTME, NECO, BECE IN 1 SITTING. GUARANTEED HERE💯
WIZKID: A LOOK INTO THE SUPERSTAR'S LOVE LIFE