Skit-maker pleads for mercy as military officers whisk him away for wearing camouflage (Video)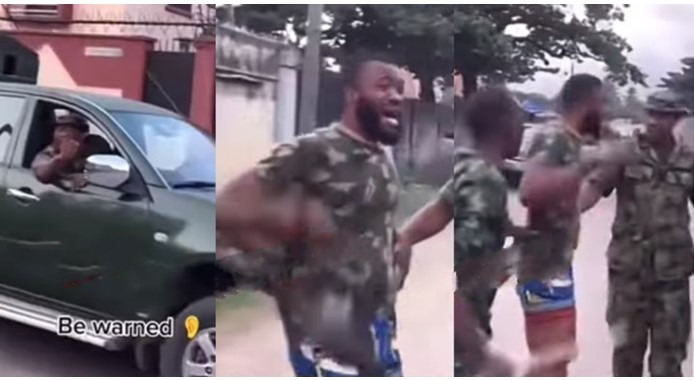 An up-and-coming skit maker has been arrested by men of the Nigerian Army for wearing camouflage.
The comedian never knew what was coming until a handful of the Nigerian army whisked him into their van over his decision to wear a camouflage outfit.
In a video that has generated quite a number of reactions, a skit-maker was spotted in the camouflage shooting when the Army men stopped their truck to accost him.
He was arrested despite explaining to the soldiers that he is a skit-maker who just wore the camouflage clothes for the purpose of their video shoot, to which the soldiers turned a deaf ear.
The soldiers could be seen bundling him into their truck as members of his crew pleaded on his behalf.
Their pleas fell on deaf ears as the Army men drove off with their colleague.
Watch the video below;