Military airstrikes decimate Scores of ISWAP/Boko Haram terrorists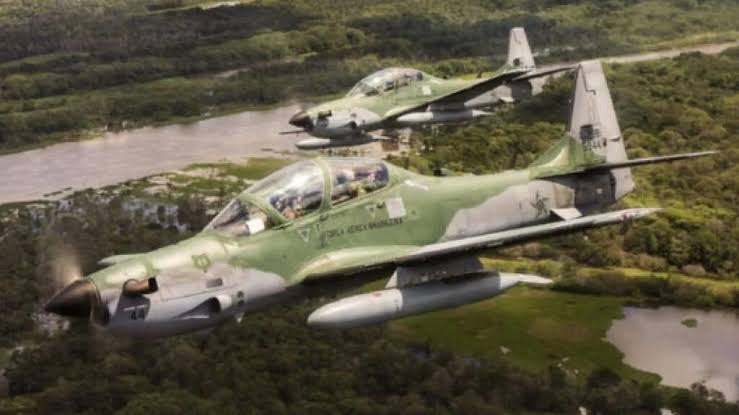 In a series of relentless military operations, the Air Component of Operation Hadin Kai has reportedly dealt a severe blow to the Islamic State West Africa Province (ISWAP)/Boko Haram terrorists, leading to the decimation of their ranks in the northeast region of Nigeria.
These successful airstrikes against identified terrorist hideouts were conducted on July 9 and 10, 2023, in several locations including Chikun, Gudu, Jibularam, Kwalaram, Arinna Ciki in Marte Local Government Area of Borno State.
Zagazola Makama, a security analyst and counter-insurgency expert in the Lake Chad region, shared the information via Twitter, citing reliable sources.
The aerial mission, driven by intelligence, targeted known terrorist positions and inflicted significant damage on the enemy. Following the operations, on-site damage assessments confirmed the elimination of numerous fighters, including unidentified commanders.
"In continuation of intensive air raids, similar strikes were also undertaken at Talala in the axis of Sambisa forest after receiving intelligence of terrorists moving on seven motorcycles. The strikes were successful, as at least six bodies of the eliminated terrorists were sighted after the clearance operations," tweeted Makama.
Further reports from sources indicated that Nigerian Air Force fighter jets were observed conducting aggressive patrols in several areas, including Afa, Kafa, Buk, Talala, Galmasaku, Chiralia, and Ajigin. Additionally, patrols were intensified in Wajiroko, Sabon Gari, Gogore, Doksa Buni Yadi, and Buni Gari.
These increased patrols were a response to actionable intelligence suggesting the movement of terrorists in seven gun trucks and on motorcycles.
In recent times, the Nigerian Air Force has intensified aerial bombardments while ground troops have embarked on aggressive clearance operations, resulting in significant losses for the unrepentant ISWAP/Boko Haram terrorists operating in the northeast region.
The ongoing efforts of Operation Hadin Kai signify the military's commitment to neutralizing the terrorist threat and ensuring the safety and security of the affected areas. The collaboration between intelligence sources, air assets, and ground forces has proven effective in disrupting terrorist activities and eliminating their key personnel.
The Nigerian Air Force and ground troops continue to demonstrate their determination in combating terrorism by conducting proactive operations based on accurate intelligence.
These operations have dealt a severe blow to the terrorist groups, significantly degrading their capabilities and undermining their infrastructure.
As the fight against insurgency and terrorism persists, the Nigerian military remains resolute in its mission to restore peace, protect the civilian population, and create an environment conducive to sustainable development in the northeast region of Nigeria.