Lagos-Ibadan Expressway blocked after tanker accident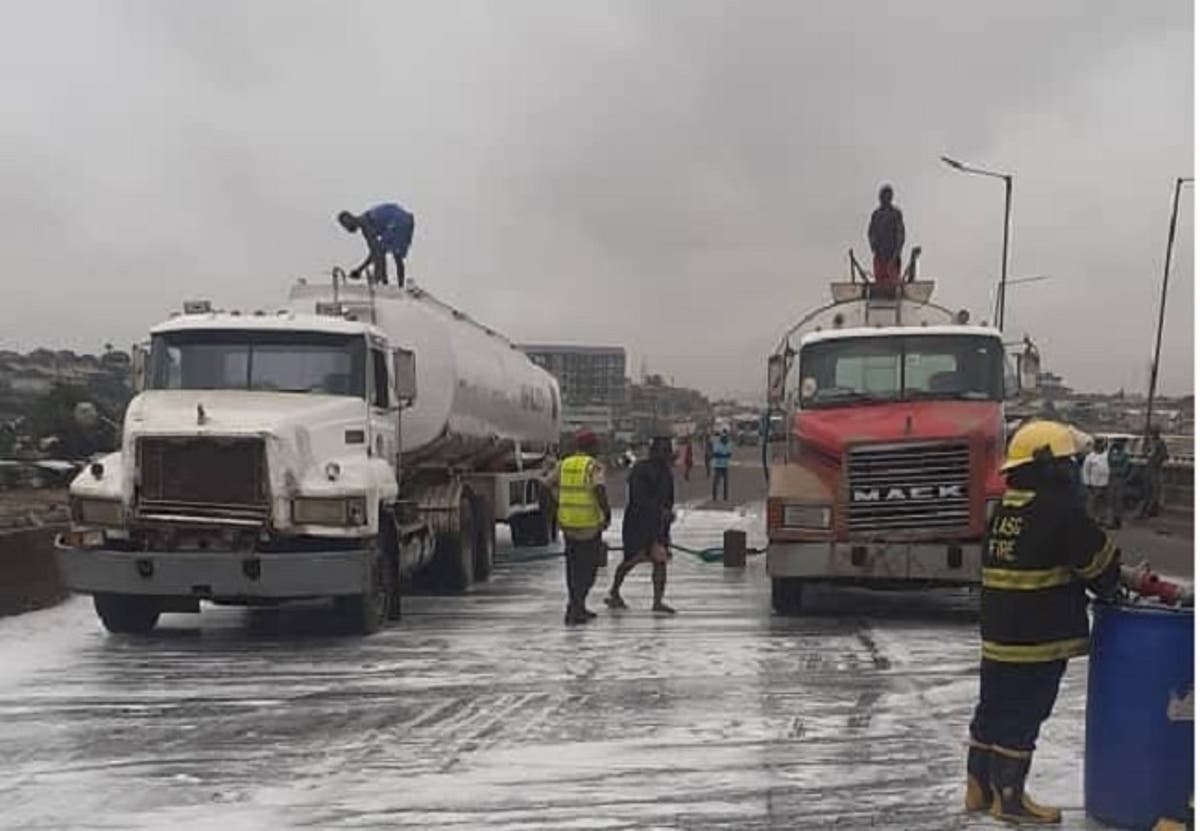 DOWNLOAD MP3 HERE
Earlier this morning, an accident involving two fuel tankers stalled movement along Lagos-Ibadan Expressway, TopNaija reports.
The accident, which occurred around the Kara Bridge section of the highway, saw motorists stranded through the stretch of the road from the Berger area of Lagos State to Mowe in Ogun State.
It was gathered that first responders have since arrived at the scene and cordoned off the site to prevent a secondary occurrence.
One of the tankers carrying diesel has been recovered but efforts are on to remove the one carrying petrol, Lagos Information Commissioner, Gbenga Omotoso, said in a statement.
He added, "As a result of this, the section of the road leading to Mowe from New Garage (Ojodu-Berger) has been cordoned off to prevent a secondary accident while contraflow is in place to reduce delays.
"All Traffic Management, Security and Emergency Management Agencies are on the scene managing the incident and traffic to reduce delays and ensure the safety of all."
Hundreds of motorists spent hours in traffic while some commuters resorted to trekking as commercial buses avoided the blocked route.
A motorist, Deji Alarape, said he entered the gridlock from Aguda, Ogba area of Lagos and spent about three hours before he drove past the scene of the incident.
He said, "I live in Ogba and work at a factory in Ibafo, Ogun State. I left home around 7am but did not get to work until about 10.30am. I spent three hours in the traffic."
Another commuter, Idris Babatunde, told our correspondent that he witnessed the traffic moving at a snail's pace from Palmgrove down to OPIC. Babatunde, who works at a real estate firm in Mowe, lamented that he got to the office at 3pm since he left his Surulere residence around 11am.
He said, "I was tired by the time I got to the office. I had appointments with some clients at 1pm and I left home two hours earlier. This is a journey that should normally take about an hour but I spent four hours. It was terrible."
A commuter, Ismail Durojaiye, said he trekked from Ogba to Ojodu-Berger because commercial buses were avoiding the route.
Giving an update on the incident around 1pm, the General Manager, Lagos State Emergency Management Agency, Dr Olufemi Oke-Osanyitolu, said the fallen tankers were conveying diesel and petrol respectively, adding that the scene was cordoned off to prevent escalation.
He said, "As a result of this, a section of the road leading to Mowe from New Garage (Ojodu-Berger) was cordoned off to prevent secondary incident while contra flow was put in place to reduce delays. All traffic management, security and emergency management agencies were on the scene managing the incident and traffic to reduce delay and ensure safety of all road users."
👉Enjoy Full Access to Complete Primary & Secondary Education Online Here👈
😎PASS WAEC, JAMB-UTME, NECO, BECE IN 1 SITTING. GUARANTEED HERE💯