Tanker accident causes gridlock on Lagos-Ibadan Expressway [PHOTOS]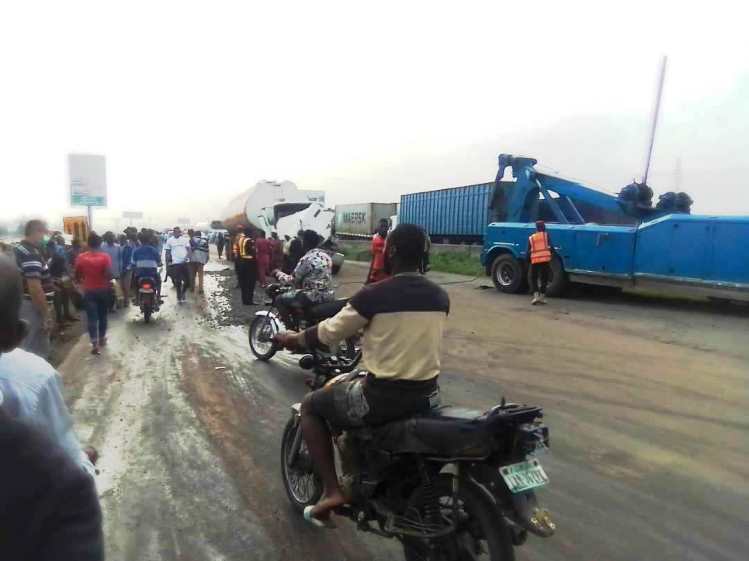 DOWNLOAD MP3 HERE
A tanker accident, on Wednesday, has caused heavy gridlock on both sides of the Lagos-Ibadan Expressway, leaving commuters stranded. On the part of the road going into Lagos from Ogun, the traffic was mostly felt from Ibafo up to a point almost close to Warewa Area.
Top Naija learnt that the accident happened on the Lagos-Ibadan expressway on Tuesday night and the affected vehicle has not been moved away from the road, causing the heavy blockade on Wednesday morning.
Motorists leaving Lagos to Ogun had to deal with the traffic from the Lagos State Secretariat, Alausa down to Warewa.
It was gathered that both sides of the Long Bridge along the Berger area of the Lagos/Ibadan Expressway is also on standstill due to the accident.
Commuters who could not afford to waste time on the road had to board motorbikes, generally known as Okada, to beat the traffic, while some motorists had to drive their vehicles off the expressway through untarred paths to escape the traffic.
Top Naija gathered that the tanker has, however, been moved from the road to allow a free flow of traffic.
👉Full Access to Complete Primary & Secondary Education Online👈
😎PASS WAEC, JAMB-UTME, NECO, BECE IN 1 SITTING. GUARANTEED💯