#KenyaDecides: Uhuru Kenyatta tops Odinga in Early Polls Results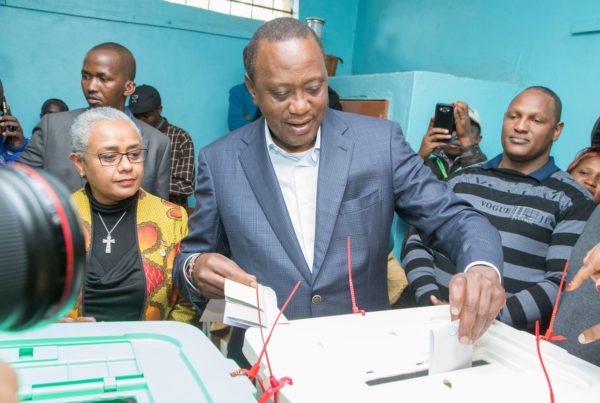 Kenya's incumbent President Uhuru Kenyatta has taken an early lead in Tuesday's national elections, preliminary results published by the electoral commission showed.
Kenyatta had 55 percent of the vote while his opponent Odinga 44 percent, the electoral commission website said at 2015 GMT, after 40 percent of polling stations had reported results.
Opinion polls released a week ago had put them neck-and-neck. Campaigning was marked by fiery rhetoric but public speeches were largely free of the ethnic hatred that has marred previous contests as the two men faced off for a second time.
The electoral commission urged voters to wait calmly for results. It said:
During this critical phase, we urge all Kenyans to exercise restraint as we await official results from the polling stations and indeed as they start trickling in.
Odinga comes from the Luo people in western Kenya, an area that has long felt neglected by the government and resentful of their perceived exclusion from political power.
Kenyatta is a Kikuyu, an ethnic group that has supplied three of Kenya's four presidents since independence from Britain in 1963.
Any glitches – innocent or otherwise – in the high-tech electronic voting and tallying system could be grounds for the loser to allege fraud, as Odinga did in 2007 and in 2013. Given his age, this is probably his last crack at the top job.
A decade ago, vote tallying was abruptly stopped and the incumbent president declared the winner, triggering an outcry from Odinga's camp. The ethnic violence that followed killed 1,200 people and displaced 600,000.
International Criminal Court cases against Kenyatta and his now-deputy, William Ruto, for helping direct that violence collapsed as witnesses died or disappeared.
During the 2013 polls, Odinga again alleged fraud, but quelled unrest by taking his complaints to the courts.
This time, the government deployed more than 150,000 security personnel, including wildlife rangers, to protect 41,000 polling stations.