Hamisa Mobetto declares herself Most beautiful Girl in Nigeria; And She is right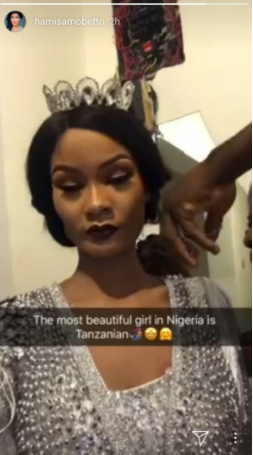 There are about 8 billion people in the world, and all of them, if they met you, would have an opinion bout you. I can bet my Christmas gift that a large portion of those opinions would be negative ones.
But guess what? None of those opinions matter.
The only opinion that matters is yours. What you think about yourself, how you see yourself, is ultimately what matters; anything outside your opinion is immaterial.
That's why Hamisa Mobetto, Diamond Platnumz second baby mama, who is presently in Lagos declared herself the most beautiful girl in Nigeria.
She's sure to receive some heavy criticism for her comment because Nigerians don't got no chill, but who cares?
She thinks she is the most beautiful girl in Nigeria; and guess what? She's not wrong.
What about you, who do you think you are? Share in the comments section.
💰Make, Manage & Multiply More Money FREE CLICK HERE👌
How to JAPA to the UK easily [Free Application Templates]