APC downplays fuel crisis, says 'no actual scarcity'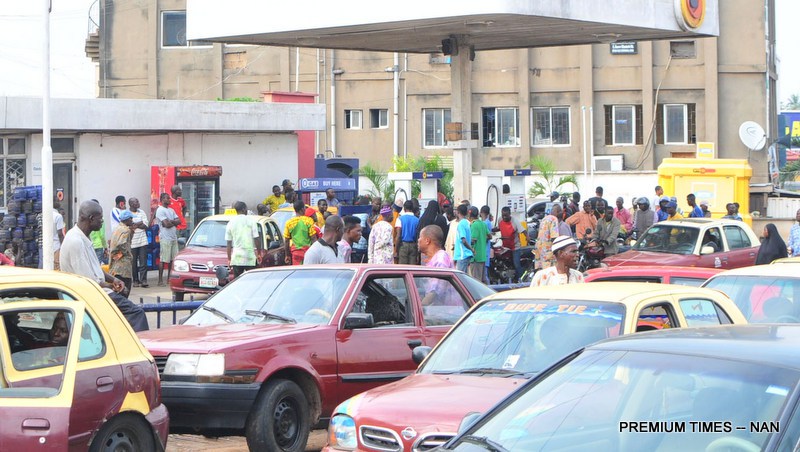 As Nigerians groan under a biting shortage of petrol, Nigeria's ruling party has said the product is available in abundance.
"There's no 'actual scarcity'," the APC said in a statement on Twitter Friday afternoon.
The party blamed marketers and panic buying during yuletide holidays for the lingering scarcity.
Unavailability of petrol has thrown the country into a renewed state of chaos for more than three weeks, despite several promises by the Buhari administration that it was in control of the situation.
The scarcity has seen petrol prices skyrocket from N145 maximum approved price to as much as N400 at the black market.
Millions of Nigerian also sleep at filling stations across the country in search of the product, and many join queues with little or no inkling that a filling station will sell.
A four-day ultimatum issued to the Minister of State for Petroleum, Ibe Kachikwu, resolve the crisis elapsed two weekends ago.
Governor Ayodele Fayose said the scarcity was a deliberate ploy by the Buhari administration to hike fuel prices to as much as N200.
Mr. Fayose said since the scarcity is largely inexplicable, it's only logical to conclude that federal authorities are behind it.
On Friday, the opposition Peoples Democratic Party, PDP, said responsibility for the scarcity laid with President Muhammadu Buhari, who is also the petroleum minister.
But the APC denied government involvement, shifting the blame on greedy marketers who are out to squeeze the citizens.
"Just some stakeholders hoarding allocated products in order to cause artificial scarcity + panic buying, for their own selfish interests," the APC said.
The party, nonetheless, said the government was working on resolving the crisis and "regretted" any inconvenience.