YABATECH holds matriculation, admits 9236 students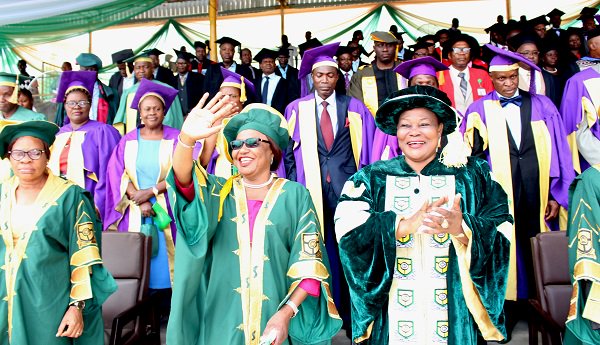 Yaba College of Technology (YABATECH), Lagos, on Thursday matriculated 9,236 students for the 2016/2017 academic session.
The number comprised 2,990 higher national diploma and 6, 246 national diploma students.
Magret Ladipo, rector of the institution, said that the event marked the formal admission of the candidates as bonafide students of the college.
Ladipo said the matriculation signified the acceptance of the students to abide by the rules and regulations of the institution.
"You must at all times ensure you abide by the oath, thereby shunning all forms of anti-social activities such as cultism, examination malpractice, sexual and other unruly behaviour," she said.
Ladipo charged the students to take their academic pursuit seriously with good conduct.
"It is imperative that you recognise that the primary aim of your enrollment in this college is to acquire quality education. I urge you all to be disciplined in order to excel in your fields of human endeavour.
"Shun all forms of distraction, take your studies very seriously, concentrate on your books, let reading and learning be your sole preoccupation, and you will be sure to graduate in flying colours," Ladipo said.
The rector said that the college would clock 70 in August, but it would be celebrated in October.
Speaking with the NAN, Funmilayo Hassan, an ND 1 student in the office technology and management department, said she was happy to matriculate.
Hassan promised to abide by the rules and regulations of the school.
"I hope to come out with distinction to make my parents proud. This can only be possible with hard work and God's grace," Hassan said.
Also, Daniel Odegha of the electrical engineering department said he would work toward graduating in flying colours.
He promised to work hard, adhere to the school's rules and regulations and contribute to making Nigeria great.