Without Partey, Rice delivers for Arsenal on Super Sunday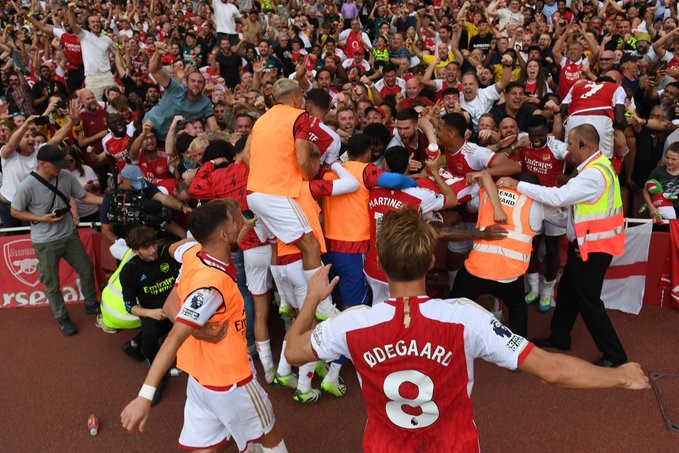 Arsenal left things late to party against Manchester United, with Declan Rice and Gabriel Jesus bringing in the celebrations at the death.
Arsenal went into the tie against Red rivals, Manchester United without Thomas Partey but came out of the game with new star, Declan Rice bringing over the party for the Gunners.
It was a fixture that lived up to its promise despite gearing off to a slow start.
The Red Devils were first to break the deadlock in the 27th minute, via a counter attacking move that was finished by Manchester United's, Marcus Rashford from a Christian Eriksen assist.
However, the Gunners were quick to respond even before the United fans on the away end could cool their celebrations.
Mikel Arteta's side knew one thing heading into the tie, if they were going to come out of this game with anything, it wasn't to be a defeat.
Within seconds of going down to Rashford's goal, Arsenal leveled the tie once more thanks to their captain, Martin Odegaard who came through when the team most needed it, with Gabriel Martinelli providing the assist for an instinctive finish.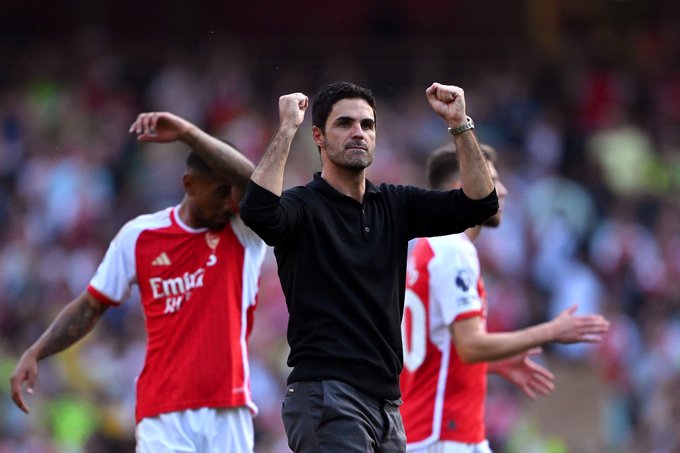 It wasn't a day for the defeat, the Gunners solely believed as they continued things from where they had left it prior to Marcus Rashford's opener.
The North London team had learnt a few lessons from last season's title challenge that had seen them go on all out attack and get beaten or taken advantage of. This game, they took it as professionals, with rather a conservative approach to tire out their opponents.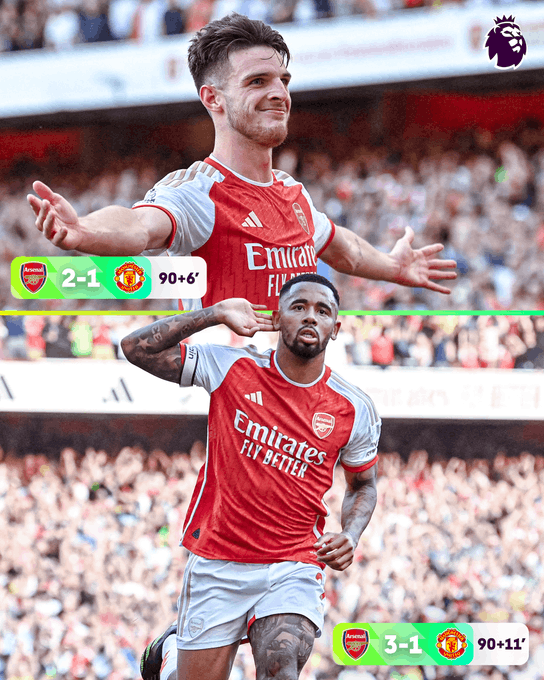 It looked to be a tactic that was going to bite back at them when minutes to full time, Manchester United substitute, Alejandro Garnacho netted what fans believed was a winner. However, the timely intervention of the VAR, left the Gunners feeling relieved as the goal was ruled out for offside.
The goal proved to be the warning for Arsenal rather than a winner against them, and on their own terms, they left things late to party.
With summer signing, Declan Rice coming to the table in the 96th minute to put Arsenal a goal up, Gabriel Jesus rounded things up with a terrific strike to close the tie at 3-1.
Despite missing key man, Thomas Partey, Arsenal were given every reason to party on Super Sunday against Red rivals, Manchester United.