We were concerted to Islam and married us off — Rescued Chibok schoolgirls narrates ordeal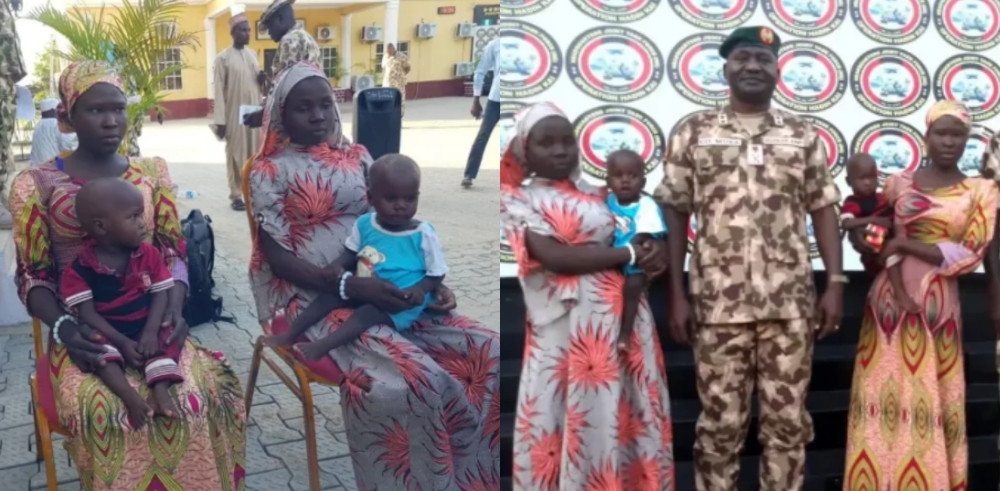 After being Rescued from Boko Haram captivity, two Chibok schoolgirls has narrated their 8-year ordeal in Sambisa forest.
The ladies, identified as Hauwa Dauda and Mary Joseph, were rescued with their children after they escaped from Boko Haram camp in Sambisa forest.
On June 12 Hauwa Dauda was rescued while on June 14, Mary Joseph was rescued from the base camp of the terrorist group in Sambisa forest.

Speaking during a brief press conference in Maiduguri on Tuesday, June 21, the young ladies narrated their 8-year ordeal in the hands of their captors in Sambisa Forest.
According to them, they were married off to Boko Haram insurgents and gave birth to children for their respective husbands who were killed by the Nigerian military some months ago, making life difficult for them.
They also revealed that over 20 Chibok school girls are still in Sambisa Forest, and went on to mention the names of some of them.

Mary, who was given an Islamic name of Mariam by her captors, said she saw late Boko Haram leader, Abubakar Shekau, in the forest.
Hauwa, on the other hand, said she never set eyes on him and only watched him speak to his men on a laptop.

"I have never seen him face to face but I used to watch him on a laptop giving instruction to the fighters." Hauwa said.

While responding to questions from journalists, Mariam said,

"Yes, there are still other Chibok girls in the Sambisa Forest. They also have been married, at least more than 20 are still there," she said and began to mention their names one after the other.

"I was 18 years old when they abducted us and I converted to Islam, I was Christian but they converted us to Islam and married us off.

"We thank God that we are finally out, we have suffered after our husbands were killed, life was hell for us. We sincerely thank the military for rescuing us."

Theater commander, Major General Christopher Musa, speaking at the press conference, said the girls have undergone proper medical check-ups and treatment and have been handed to the government who will then reunite them with their families.

He also assured Nigerians that the military troops will not rest until the remaining victims regain their freedom.

Boko Haram abducted 276 female students aged 16 to 18 from the Government Girls Secondary School in Chibok, Borno State, in April 2014.

However, over 100 of the school girls are still missing till date.