We could see he was not happy — Fabinho on Firmino leaving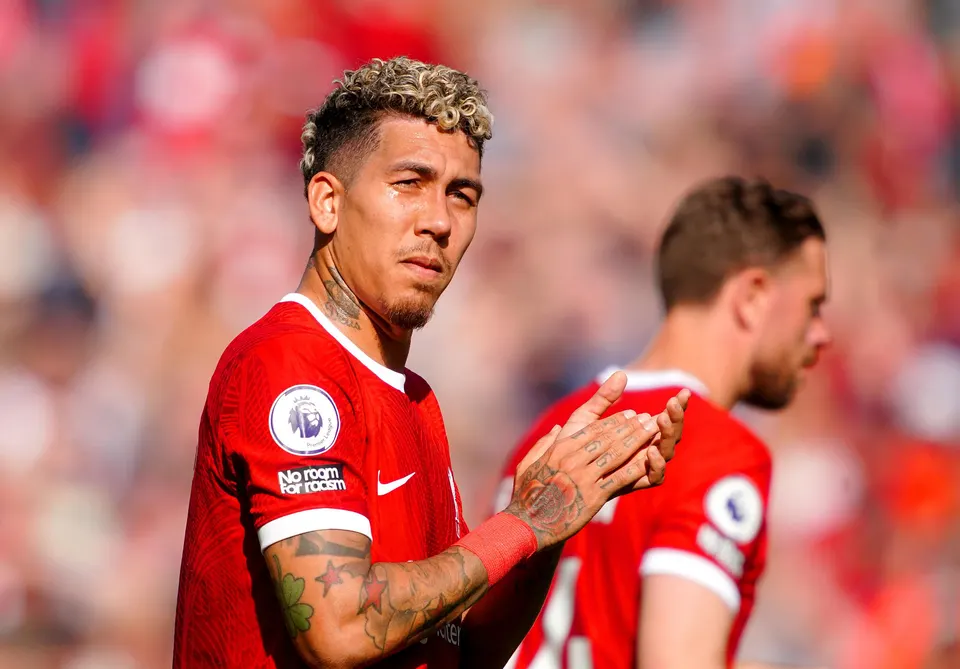 Liverpool's dressing room has been left in a state of shock following Roberto Firmino's decision to leave the club, according to his teammate Fabinho.
As the Reds prepare for their final game of the season against Southampton, they will bid farewell to Firmino, Naby Keita, Alex Oxlade-Chamberlain, James Milner, and Arthur Melo, who will all be departing at the end of their contracts.
While Liverpool manager Jurgen Klopp expressed his surprise at Firmino's departure, it is believed to be the most emotional farewell for the German tactician. After eight years at Anfield, Firmino himself decided to bring an end to his illustrious spell with the club.
Speculation had initially suggested that Liverpool would offer him a short-term contract extension, but Klopp revealed during the season that the Brazilian forward had opted to seek a new challenge elsewhere.
Although the destination for Firmino's next venture remains uncertain, Barcelona appears to be the most likely option, while clubs in Italy, including Napoli, have also been linked with the 31-year-old.
Fabinho, who is both Firmino's international and club teammate, disclosed that Liverpool's squad was taken aback by the striker's decision to leave.
"This season, we were always asking him 'Bobby, when are you signing your new contract?'," Fabinho told Sky Sports News.
"[We told him] 'come on, we want you to sign, you have to stay here with us'. We didn't really expect him to go.
"Bobby is 31 years old, so he has a lot to do, he can still play his best football at that age, he's young.
"So yes, we didn't really expect this decision to be made, but he has to go."
The players had been urging Firmino to sign a new contract throughout the season, expressing their desire for him to stay at the club. The unexpected news of his departure has left them surprised.
At 31 years old, Firmino still has plenty to offer and can continue to excel on the field. Despite his limited playing time this season, he managed to contribute 10 goals and five assists for Liverpool.
However, injuries have plagued him during the campaign, leading him to believe that now is the right time to seek a new challenge.
"Sometimes we saw that he was not happy because of the injuries as well," added Fabinho.
"He's somebody that really didn't get injured, but this season he struggled a little bit with injuries.
"But now, we already know he will not stay, it was a pretty emotional week for all of us. The only thing is that I wish the very best for him and his family."
Fabinho acknowledged Firmino's frustration with his injury troubles and emphasized that the decision to part ways with Liverpool has been an emotional one for the entire team.
He expressed his well wishes for Firmino and his family, hoping for nothing but the best for the departing striker.
As Liverpool bid farewell to several key players, including Firmino, they will undoubtedly face the task of finding suitable replacements to maintain their competitiveness in the upcoming seasons.
The departure of the Brazilian forward marks the end of an era and presents an opportunity for Liverpool to reshape their squad and continue their pursuit of success under Jurgen Klopp's guidance.