'I will cry alot' — Roberto Firmino reacts to leaving Liverpool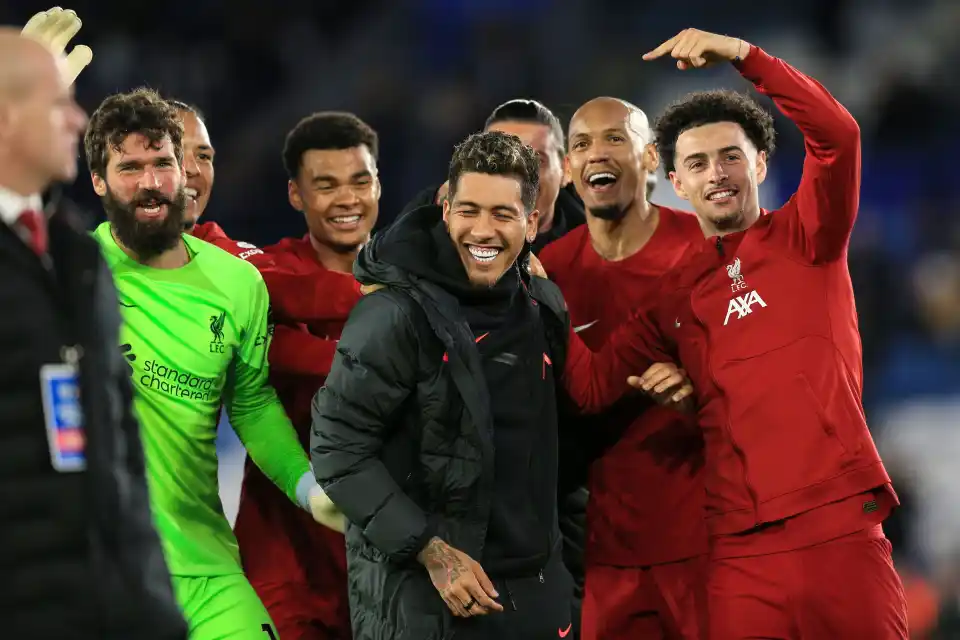 Roberto Firmino, the Brazilian forward for Liverpool, shared his thoughts and emotions following the conclusion of the 2022/23 season.
In an interview held at the AXA Training Centre, Roberto Firmino expressed his gratitude towards the fans, his love for the club, and his anticipation of an emotional farewell at Anfield.
Firmino, 31, revealed that he would shed tears after his final game, describing it as a special day for him and his family. Although surprised by the venue being an away game, he acknowledged the fans' support and their creation of a song dedicated to him.
"After the game, I will cry 100%," he says. "It's a special day for me. It will be emotional for me and for my family."
The song held great symbolic value, representing their love for him and providing him with motivation and courage throughout his Liverpool career.
When asked about the last time he sang the fan-favorite anthem, 'Si Senor,' Roberto Firmino joyfully shared that he sang it with his family just two days prior in the car. His children requested the song, and they sang along together. While he possesses piano skills, he admitted that playing 'Si Senor' on the piano was challenging but expressed his determination to learn it.
Having missed the past six games due to a muscle problem, Firmino assured fans that he would make himself available for his farewell at Anfield, jokingly claiming he would play even if not at 100% fitness.
As his astonishing Liverpool career nears its end, he looks back on 360 appearances, 109 goals, and major trophy wins, including the Premier League, Champions League, UEFA Super Cup, FA Cup, and the FIFA Club World Cup.
When asked which trophy meant the most to him, Firmino unhesitatingly chose the Champions League trophy, emphasizing the difficulty of competing against top European teams.
Reflecting on his standout moments, he mentioned his late winner against Paris Saint-Germain in September 2018 as his favorite goal and his backheel assist to Mohamed Salah against Newcastle United as his most cherished of 72 assists.
Additionally, he highlighted the 5-1 victory over Arsenal in December 2018, where he scored a hat-trick, as his favorite game.
Firmino's success and longevity at Liverpool seemed unimaginable during the early days of his arrival under Brendan Rodgers. He recalled the initial challenges of finding his position on the pitch but credited the current manager for creating the false nine role specifically for him.
The Brazilian striker expressed gratitude for the opportunity to play in that position, which allowed him to enjoy the game and contribute to the team's success.
"In the first week I was here, even I didn't know where I would be playing," Firmino revealed.

"I can play everywhere. But me and Brendan Rodgers didn't understand each other about my position on the pitch." he asserts.

"When the current manager arrived, we created a position, the false nine. After that I just enjoyed the position. Before, the whole time in my career I was a number 10. And then I came here and became a nine, a striker. I tried my best, and thank God it was very good. I say we created it together but he'd say it was me! I tell him it was together."
Being part of Liverpool's formidable attacking trio alongside Salah and Mane, Firmino attributed their on-field chemistry to the daily training sessions they shared.
"We knew each other. In the game it would work because of that. But to play alongside these two guys, top players, it was an honour and a pleasure for me. I enjoyed it a lot playing alongside them both, and the results we earned together."
Their familiarity with each other's playing styles resulted in a successful partnership, and Firmino expressed honor and pleasure in playing alongside these exceptional talents.
He admitted that he often found more joy in providing assists for his teammates than scoring goals himself, emphasizing the importance of helping the team as a whole.
"Sometimes I enjoy more the assists than actually scoring a goal myself. It's important for me. I enjoy assisting my team-mates and of course helping them with goals too."
Firmino fully embraced the title of Liverpool legend, stating that he was content with such recognition. He attributed his perennially cheerful demeanor to his innate personality, stating that he always tried to be happy and smile, regardless of the circumstances he faced.
He acknowledged that his time at Liverpool had come to an end, but he left the door open for a potential return, possibly as a coach, while acknowledging that the future remained uncertain.
"The cycle here is ended and I understand it is time to go. Maybe one day I could come back, I don't know, but it's time to go. Come back as a coach? Maybe! You never say never. I don't know what is going to happen with my future. It might be to play, you never know."
As he prepares to bid farewell to Liverpool, Firmino admitted that he would miss everything about the club, especially his teammates and the fans who had shown him tremendous support throughout his eight-year tenure. He expressed immense pride in the achievements they had collectively attained and the legacy they were leaving behind.
Grateful for all that the club had done for him and his family, Firmino radiated happiness and thanked God for the beautiful history they had created together.