Mob parades woman naked, accuses her of killing husband in Anambra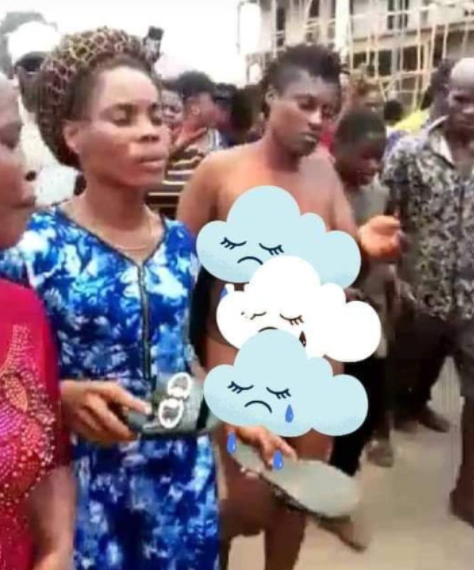 A woman who has been accused of killing her husband was stripped off her clothes and paraded around the village in Aguilera community in Anambra state.
The video trended online and it showed how the woman tried to cover herself even as the villagers made her go round naked because she was said to have killed her husband as a result of infidelity.
A man said that the woman should remain naked for the world to see because she is guilty of her husband's death as he was heard shouting in the crowd "O buyaagburu di ya", contextually translated to mean 'she caused her husband's death by committing adultery'.
The Anambra state police command has confirmed the incident, they said that the woman was rescued from a mob in Aguleri community of the state on Saturday March 12.
The police said a principal suspect had been arrested in relation to the inhuman treatment. The state police spokesman, Tochukwu Ikenga, said:
"The Anambra State Police operatives have today, 12/3/2022, rescued a female victim from an angry mob in Aguleri.
"The rescue was as a result of a report from a trending video where a lady was publicly molested and assaulted on an alleged incident of causing the death of her late husband.
"The Commissioner of Police, CP Echeng Echeng, while describing the act as barbaric, states that one suspect is already in custody and ordered an immediate study of the video with the aim to identify the suspects, arrest and bring them to book.
"Further information reveals that the deceased had already been buried before the video started trending. The victim was rescued and she is currently receiving medical care in the hospital. More development shall be communicated please."
Watch the video below