We just recovered N328.9bn from 9 petroleum marketers – EFCC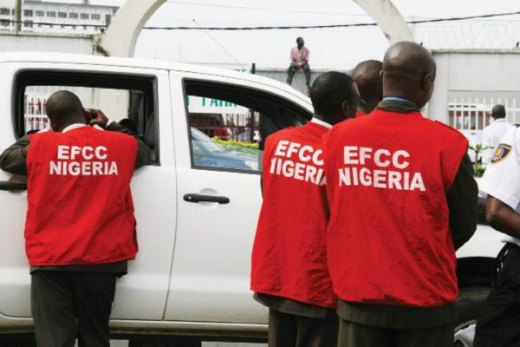 The Economic and Financial Crimes Commission (EFCC) has announced its latest recovery of over N328.9 billion out of N349.8 billion debts from nine major petroleum marketers within the last one year.
Adamu Hamisu-Danmusa, the EFCC head of operation, north-west zone, Kano, disclosed this while addressing reporters in Kano on Tuesday.
He said the debts, which included legacy/bad debts and current debts, were recovered following report from the Independent Petroleum Marketers Association of Nigeria (IPMAN) to the commission.
"The IPMAN reported to the commission that there are some major marketers that connived with NNPC officials and received fuel allocation but refused to pay the money into the treasury single account (TSA)," he said.
"So after investigation, we were able to find out that there is N349.8 billion as legacy/bad debts and debts on current transactions.
"The commission was able to make recoveries of N328.8 billion from the nine major marketers from July 2016 to July 2017."
He said the commission was still making effort to ensure that all the remaining debts were recovered from the marketers and remitted into the federal government's Consolidated Account.
Hamisu-Danmusa said the commission had also recovered huge amount of money from the cases reported by individuals, corporate bodies and Independent National Electoral Commission (INEC)
"The money include N364.4 million, 4.7 million dollars, 60,050 pounds, 59,200 euro and 70,500 Saudi Riyals.
"The money was recovered from January to date, " Hamisu-Danmusa said.
He said the commission recovered N305,000 from a Chinese national arrested at the Malam Aminu Kano International Airport, Kano, on July 25.
He added that the Chinese, Ma Youngin who could not speak English language, was apprehended by customs officials with the money while on his way to Dubai.
One other suspect was also arrested at Malam Aminu Kano International Airport, Kano, with 849 different ATM (debit) cards.
He said investigation was still ongoing into the two cases, adding as soon as the investigations were concluded, the suspects would be charged to court.