BREAKING: Fire Razes Market In Borno State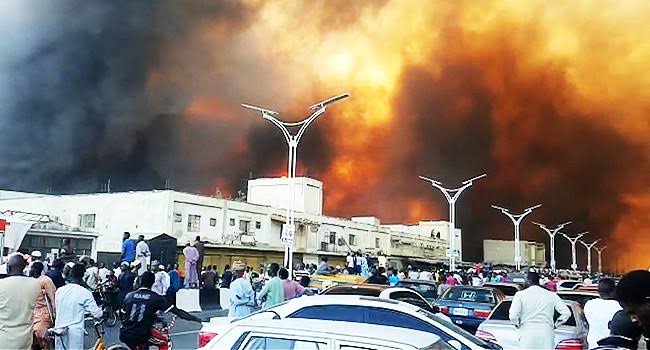 A fire outbreak has been reported at the Gamboru Market in Borno State, exactly three weeks after a similar incident occurred at the largest market in the state, the Monday Market. According to reports, the fire started around 2:30 pm on Saturday, at the cooking oil section of the market.
The cause of the fire is yet to be ascertained, but eyewitnesses say it started as a small flame before escalating into a huge inferno that razed down parts of the market. The fire caused a massive panic among traders and customers who fled the scene to avoid being caught up in the raging flames.
Security agents were swiftly deployed to the market to contain the situation, and they chased away a massive influx of people who had gathered around the market. Entry into the market was also stopped to avoid further damage to property and loss of life.
The Gamboru Market is a significant economic hub in Borno State, providing livelihoods for thousands of traders and serving as a major source of revenue for the state government. This latest incident is a huge blow to the traders who have already suffered massive losses from the previous fire outbreak at the Monday Market.
Authorities in the state have expressed concern about the recurring fire incidents in major markets, and have called for urgent measures to prevent such disasters in the future. They have also promised to provide support for the affected traders to help them recover from their losses.
The fire outbreak occurred at the Gamboru Market in Borno State, causing panic among traders and customers who fled the scene. Security agents were deployed to contain the situation and entry into the market was stopped.