Boko Haram entice new recruits with Sallah gifts in Kaduna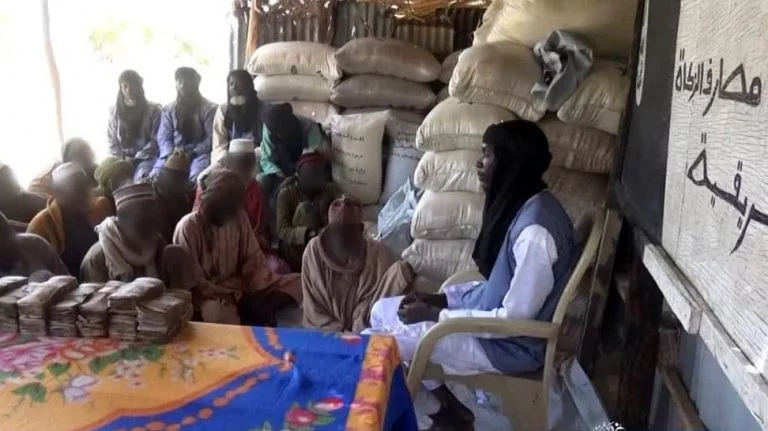 Members of Boko Haram, Ansaru terrorists, have begun recruitment of new members in Kaduna State.
The terrorist group reportedly began recruitment of new members during a visit to some villages in Birnin Gwari Local Government Area in Kaduna State, on Wednesday, May 4.
TopNaija understands that the notorious terrorist group began the recruitment process by sharing gifts with the residents to celebrate Eid-el-Fitr and to entice them to join their pack.

According to Daily Trust, some of the villages visited by the insurgents include Damari, Farin Ruwa, Kwasa Kwasa, Kuyello, Gobirawa, Tabanni, Kutemeshi and Kazage.

A resident testified of how the militant group preached and distributed a five-page pamphlet titled; 'We are not Boko Haram but Ansaru', flash disks, and other items to other residents.

Also, the terrorist group reportedly performed motorcycle stunts to entertain the villagers in a bid to entice them to join their nefarious business.

A resident was quoted as saying;
"They visited the Kuyello area, Tabanni, Kutemeshi and also my village, which is Kazage to join the people in the Sallah celebration.

"They participated in motorcycle stunts within the communities; nobody was harmed and they warned against indulging in any dangerous play. They equally preached and shared biscuits with the people.

"With their presence, bandits will dare not attack our communities."

In a chat with the newspaper, a resident of Kuyello village, Muhammadu Isa, said many youths have expressed interest in joining the group for protection from bandits.

"There are some communities where members of Ansaru provide access to residents to go to their farms and guard the residents while at farms," he said.