Young people cannot rule Nigeria – Bisi Akande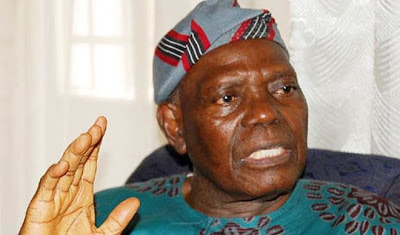 The Former interim National Chairman of the All Progressives Congress (APC), Chief Bisi Akande has said that the brand of democratic system in Nigeria is akin to military junta, noting that political players are not better than military dictators and despots.
The former Osun State Governor also expressed pessimism over the competence of the youths to take over the mantle of leadership, saying there is total erosion of values among the young generation.
"The core value system is no more in place. We have a mixture of the negative and positive tendencies among the youths.
"The negative tendencies are more than the positive ones. How do we get sincere and good future leaders in the present society".
Akande, spoke when he payed host to members of Pan Yoruba group known as Yoruba Patriotic Movement at his Ila-Orogun, his country home.
He noted that the whole political system and pattern of governance in Nigeria predicated on "governance with impunity".
He explained that the Nigerian party system was still far from entrenching internal democracy base on carryover of military orientation and gestapo approach.
Akande insisted that the only way democracy could be sustained and nurtured in a party system is to have an independent and virile political parties, the one not tied to the apron string of any governmental institution or structure.
"Political party grew in hierarchy system in those days; whether you are tailor, bricklayer, carpenter or whoever, you must learn politics through your political party.
"You cannot just rise up and say you want to become this, you want to become that in the party. You must learn first. Political party was a leadership training ground.
"But the military deliberately killed that system. The military wanted to be controlling the political party after they left power.
"The military created political party like NRC, SDP during Babangida's time; we would remember the five leprosy fingers of General Sani Abacha. After they left government, they made regulations for the political parties through the civilian government.
"Up till date, military mentality still pervades our political system. Unfortunately, those who knew the military plan have left the political party leadership. Majority of the people at the leaderships of the political party are those who grew or learn politics in the military arrangement", Akande opined.