Vote Buyers Arrested In Gombe State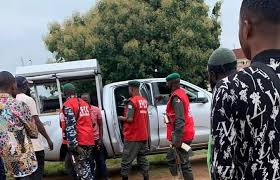 The Economic and Financial Crimes Commission (EFCC) has arrested some party agents for attempting to buy votes during the gubernatorial and House of Assembly elections in Gombe State.
The arrest was made after a voter at polling unit 22, Pantami ward, reported the illegal activity to the EFCC when the police officers attached to the polling unit failed to stop it.
Despite the low voter turnout, the governorship candidate of the Peoples Democratic Party, Muhammad Barde, alleged that there had been widespread vote buying and selling.
He urged residents to vote according to their conscience and not be swayed by the money being offered. Some voters confirmed that they were offered money to vote for certain candidates but said they would vote according to their conscience.
Vote buying was reportedly prevalent across both major political parties.