Earthquake In Ecuador's largest city, Guayaquil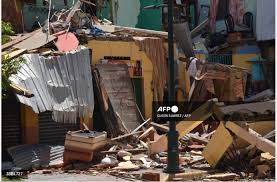 The earthquake, with a magnitude of 7.0, hit at 12:12 local time and its epicenter was located off the coast of Ecuador's largest city, Guayaquil.
According to the National Seismological Center of Peru, the epicenter was 85 kilometers northeast of the Peruvian city of Zarumilla, near the border with Ecuador. While there are currently no reports of significant damage to buildings or people, officials are still assessing the situation.
The earthquake was felt strongly in several cities in northern Peru, including Piura, Tumbes, and Lambayeque, as well as in parts of Ecuador. Some people reported feeling tremors as far away as Quito, the capital of Ecuador.
At this time, there are no tsunami warnings in effect, but people in coastal areas are advised to stay alert and be prepared for any possible emergencies.
This earthquake is a stark reminder of the importance of being prepared for natural disasters and having a plan in place in case of emergencies. We will continue to monitor the situation and bring you the latest updates as they become available.