Taylor Swift Makes Comments About Her Breakup With Joe Jonas In 2008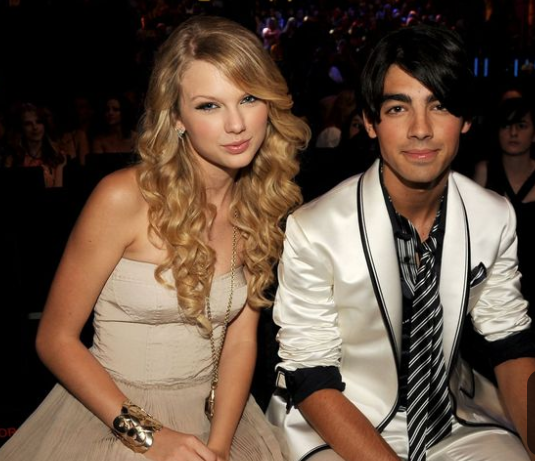 Pop music icon Taylor Swift is taking her shade way back. The "ME!" singer appeared on for the first time in a long time and reminisced with the host about a previous appearance she made back when she was still exclusively making country music.
In a mildly-shocking turn of events, Swift not only addressed one of her ex-boyfriends, but she also took back some shade she threw at one of them. Which ex, you ask? None other than Joe Jonas. Taylor Swift's comments about Joe Jonas dumping her a decade after she blasted him for it on in 2008 are a mature move.
In the interview aired on Wednesday, May 15, Ellen DeGeneres had Swift do her "Burning Questions" segment, where the two of them sit in a set of chairs and answer a round of rapid fire q's. When you answer, you hit the big red button in front of you. The first thing DeGeneres asked was if Swift could reveal the title of her next single.
"I can't tell you that. That's crazy!" Swift said back. Then DeGeneres pressed a little further, asking her to sing some of it.
"No!" Swift replied. Well, fine.
Then Swift was asked what her favorite TV show is (, , , and were her responses), then came the question about her teen years.
"What is the most rebellious thing you did as a teenager?" DeGeneres asked.
Swift thought about it for a second, then replied, "Probably when I like put Joe Jonas on blast on your show. That was too much, that was too much."
"I was 18, yeah," she continued. "We laugh about it now, but that was mouthy, yeah, some teenage stuff there."
Let's take it back to that moment, shall we?
Swift was on the show back in 2009 to promote the album when DeGeneres asked her to comment on who the songs on the album was about. This was around the time Swift and Jonas were reportedly dating, so DeGeneres put a picture of Swift and Jonas up on the screen behind them.
"There's one [song] that's about that guy, but that guy's not in my life anymore, unfortunately. That's ouch," she said, revealing a few moments later that the song was titled "Forever and Always." (A sarcastic title, clearly.)
"We haven't talked since, but you know what, some day I'm gonna find someone really, really great who's right for me," she continued. And here's when she poured her tea hot.
"When I look at that person," she said, "I'm not even going to remember the boy who broke up with me over the phone in 25 seconds when I was 18."
"Sorry, I had to," Swift added at the end.
Yeah, safe to say she put Joe Jonas on blast a bit there!! But in her new interview with DeGeneres, she admits that was some rebellious teen behavior right there that she probably could have refrained from. DeGeneres said she doesn't even remember that moment happening, but let's be real… she does.
Taylor Swift is taking back her shade! You see that? That's growth.
Leverage social media to make more money and grow your brand in 2019! Attend The Social Media Wealth Masterclass with Isaac Click here to ENROL NOW!
Follow us on Instagram
|
Advertise With Us
|
Send Us News Tips
|
Promote Your Music
[18+] Cardi B rains money on naked strippers in Lagos club (Photos & Video)
Last night, popular and controversial American rapper, Cardi B, who landed in Nigeria two days ago for a show was filmed inside a Lagos strip club spraying bills off N200 notes on half-naked and stark naked strippers.
The multi-award-winning rapper who can't seem to get enough of Lagos was seen visibly excited at the rounchy experience, taking it all in.
See more photos and watch the video below.
PG 18
Cardi be in a strip club in Nigeria pic.twitter.com/FpFjGVFteE

— Liverpool FC (@therealdangote) December 7, 2019
Trust Nigerians; see how they are reacting to this below!
You can't go to #TheExperience14 last night and still go check cardi b's ig story this morning. You'll have problem with God 😂😂😂 pic.twitter.com/e7v0BNdPbY

— MIDE (@Bam_mide_) December 7, 2019
After Dancing to Chioma Jesus, Sinach and listening to preaching last night you're now on Cardi B's IG story looking at big booty 😂 I'm on this table too sha. God said we should not lie

— DREYLO. (@RealDreylo) December 7, 2019
Y'all are hypocrites in this country! Enjoy Cardi B's IG story with remorse if you ever crucified these people. https://t.co/GmplDe3adC

— Garuf the Landlord 🌍 (@only1garuf) December 7, 2019
Married man with two kids finds his wife shaking ass on Cardi b's IG story….
Well what is her looking for on her story sef..
Men are scum..😇

— Chi (@gladly_me) December 7, 2019
I just spent my morning watching Cardi B's IG. I feel blessed.

— Sandra Ezekwesili (@SEzekwesili) December 7, 2019
I just came from Cardi B's IG stories and I'm MF high, wet and dizzy all at once. Y'all I ain't seen this kinda party hard in Lagos before. Shit is LIT 🔥🔥🔥

— OmalichaMira (@MiraOmalicha) December 7, 2019
Cardi B's IG story is the best thing to watch right now

She's so hyped about Nigeria 😂😂😂😂 pic.twitter.com/asdYTtcD0o

— JAGS (@EtniesJags) December 7, 2019
Cardi B's IG stories have some Nigerian chic crying about her parents not allowing her to see Cardi, the next stories have strippers. Imagine her parents reaction if they watched 😂😂💀 pic.twitter.com/mVHDS5Xg8k

— Mwes Drew (@MwesDrew) December 7, 2019
God,this my small MB that I've been managing will finally finish today because of Cardi B's IG page😭😭 pic.twitter.com/Ze8cKPaXbt

— Black Daddy 🇳🇬 (@black_daddy01) December 7, 2019
Pictorial representation of Nigerians currently on Cardi B's IG Story. pic.twitter.com/4HfRsfiO93

— FAVOUR ONYEOZIRI (@FOnyeoziri) December 7, 2019
Leverage social media to make more money and grow your brand in 2019! Attend The Social Media Wealth Masterclass with Isaac Click here to ENROL NOW!
Follow us on Instagram
|
Advertise With Us
|
Send Us News Tips
|
Promote Your Music