President Buhari Doesn't Understand How To Run Govt – Olisa Agbakoba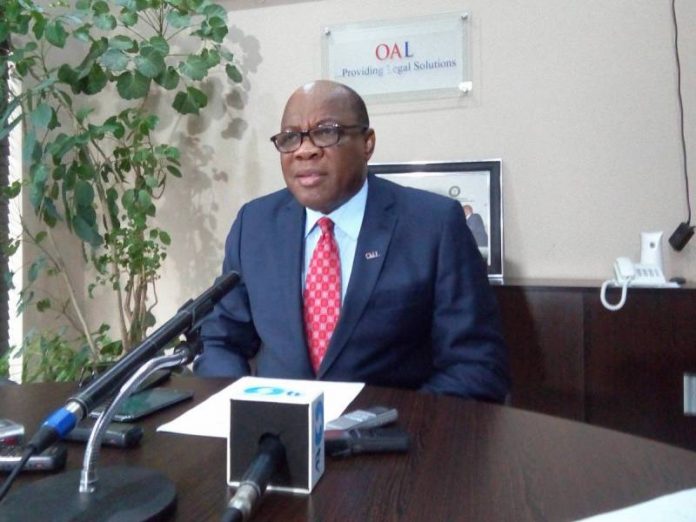 A Senior Advocate of Nigeria, Dr. Olisa Agbakoba, has said President Muhammadu Buhari is bereft of the understanding of how a government should be run.
He also described the federal cabinet put together by Buhari as incompetent, saying the President is "sleeping on the job."
"Government's work is misunderstood even by the President. He doesn't understand the nature of how to run a government," Agbakoba told reporters in Lagos.
According to him, Buhari's government is performing poorly because a number of his ministers do not have the required competence to handle the portfolios assigned to them.
Examples of such ministers, he said, are Geoffrey Onyeama, a lawyer, appointed as the Minister of Foreign Affairs, and Kayode Fayemi, the Minister of Solid Minerals Development.
He said though Fayemi and Enyeama were brilliant men, they were round pegs in square holes.
"He (Buhari) needs to sack his entire cabinet because they have failed," Agbakoba said.
The lawyer also highlighted the objectives of the National Intervention Movement, which was recently floated by him and others.
Agbakoba explained that since the floating of the movement was reported in the media last week, people had inundated him with phone calls, asking him whether it was a new political party and how they could join.
He, however, clarified that "NIM is not a political party but a pressure group to put the government on its toes."
"Our objective is to mobilise Nigerians to hold government accountable at all levels. We want to grow by inspiring and supporting people to start small groups across the country," he said.
– Advertisement –
Agbakoba said the activities of the group would involve active use of the social media to sensitise Nigerians and sometimes hold rallies when necessary.
"It is going to be membership-based and we are going to have friends of the movement. We are not going to depend on anybody to fund us, we are going to ask Nigerians to fund us; send your N100, send your N200, because it will require a lot of resources. So, in one way, we want Nigerians to claim ownership of the movement. That's the structure," he said.
Agbakoba said like Buhari, the state governors had not fared better, describing Lagos State, for instance, as a broken city.
"Governor Ambode of Lagos State says that he runs either the third or fifth largest economy in Africa, but you are all in Lagos. This is a broken city, it is a completely broken city and in the index of the harshest cities to live in the world, Lagos is third from the last," Agbakoba said.
He added, "Ambode is fixing federal roads when Lagos State roads are deplorable.
"Okorocha is erecting statues of all kinds of people when Imo State owes pensioners.
"Wike is using Rivers State money to buy SUVs for members of the National Assembly."
Agbakoba said the high recurrent expenditure in the nation's budget exemplified Buhari's misunderstanding of how government should be run as well as lack of will power.
"The current budget is about N8tn; 70 per cent is for recurrent expenditure, that means salaries.
"Now, only three million people in Nigeria, working with the Federal Government, 'chop' all that money to the exclusion of the 180 million people. So, where's the fairness? Three million people and 70 per cent, and the remainder 30 per cent for 180 million people."