Policeman allegedly brutalize 60-year-old mother to coma in Delta State (VIDEO)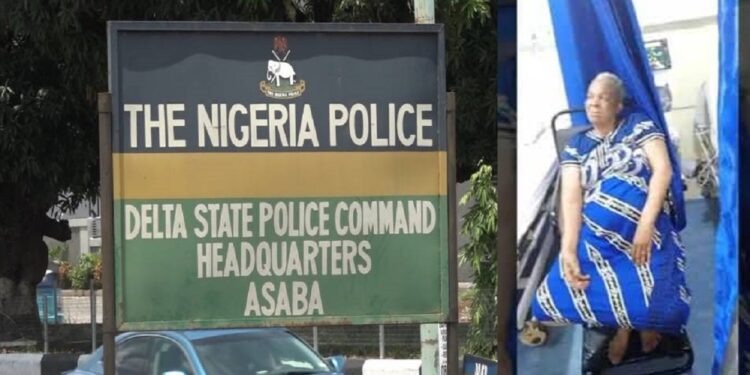 In Delta State, a police officer of the Enerhen Police Division in Uvwie Local Government Area is accused of assaulting and beating a 60-year-old lady, Monica Anyamah, to the point of unconsciousness.
The victim is presently being treated at an unnamed hospital.
The assault happened on Saturday in the Agbarho hamlet, according to Alexandria, the victim's daughter.
The cop accused of the attack has been named only as Bobby. According to reports, Bobby apprehended her mother in the Agbarho Division of the Ughelli North Local Government Area.
Alexandria reported that throughout her arrest, her mother, who suffers from hypertension and diabetes, was refused access to her medicine.
Bobby, she alleged, not only attacked her mother, but also assaulted and harmed her father.
When her mother started having convulsions after being smacked on the head by the officer, the seriousness of the situation became clear. Alexandria has fought for justice with zeal, asking Nigerians for help.
"I need justice for my mother dear Nigerians please," she said.
Her mother, a primary school teacher and businessman, went home from Effurun market, where she sells secondhand garments, to find her house help, Maria, had quickly packed her possessions and departed.
In their search for Joy, her mother and father paid a visit to the home of Wisdom, the agent who had arranged for the housekeeper.
They came into Bobby, who reportedly unleashed a vicious attack on her mother and wounded her husband.
Comrade A.P. Edariese, Delta State Chairman of the Committee for the Defence of Human Rights (CDHR), has denounced the occurrence, calling it an instance of brutalization. He has requested that the Delta State Commissioner of Police, CP Wale Abass, and other relevant authorities intervene to guarantee that justice is done.
While DSP Bright Edafe, the Delta State Police Public Relations Officer, has disputed the claim as untrue, the Commissioner of Police has yet to reply to queries about the event.
The community is watching the case with bated breath, praying for a quick conclusion and the restoration of justice.
Watch video below: