Okorocha Launches Indigenous 'Imo International Rice'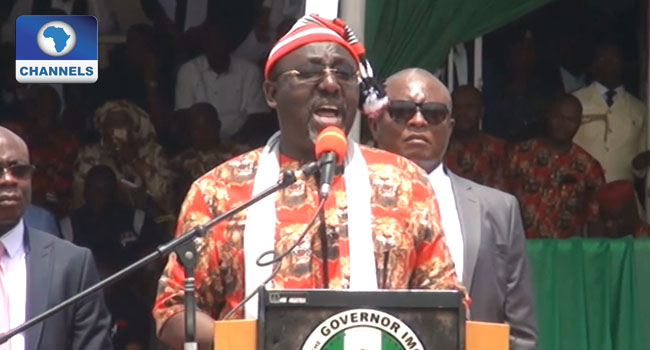 The Imo State government has launched its first indigenous rice called 'Imo International Rice' for consumption of residents and Nigerians in general.
This follows the partnership between the state government and the Central Bank of Nigeria (CBN) under the Rice Anchor Borrowers' Programme of the Federal Government.
The 50kg-bag of rice was officially unveiled on Saturday by the state Governor, Rochas Okorocha, at the Imo International Conference Centre in Owerri, the state capital.
Governor Okorocha, in his address, said the decision to start the production of an indigenous rice was borne out of his administration's commitment to providing sufficient food for the people.
He added that it was also part of his resolve to create employment opportunities for the teeming youths and complement the Federal Government's effort in promoting local rice production in Nigeria.
Okorocha described the feat as 'a dream come true', saying it would go a long way to support the efforts of the Federal Government in abolishing sales of foreign rice and promoting local rice production in the country.
On her part, Commissioner for Agriculture and Food Security in the state, Mrs Ugochi Nnanna-Okoro, informed the gathering that the Federal and state government collaborated to train and empower a total of 3,242 farmers in rice farming.
She added that the performance of the farmers in one year has resulted in the production of more than 2,000 metric tons of packaged and processed stone-free parboiled rice.
Also at the event, the state government also showcased the locally-processed and packaged Imo smoked catfish.
According to the government, pilot rice farms have been established in 12 Local Government Areas (LGAs) of the state and plans are ongoing to create more in the remaining 15 LGAs while a bag of rice is to be sold at a discounted rate of N14,500.
In October 2016, Chairman of the Presidential Taskforce on Rice Production and Kebbi State Governor, Abubakar Bagudu, visited Imo State alongside some CBN top officials to launch the Rice Anchor Borrowers' programme.
One year and two months down the line, top government functionaries, traditional rulers, and indigenes of the state gathered to witness the product of the programme launched – the official unveiling of the first ever indigenous rice solely produced by farmers in the state.