Kepa Fixed the Chelsea vs. Man City Match—Fans React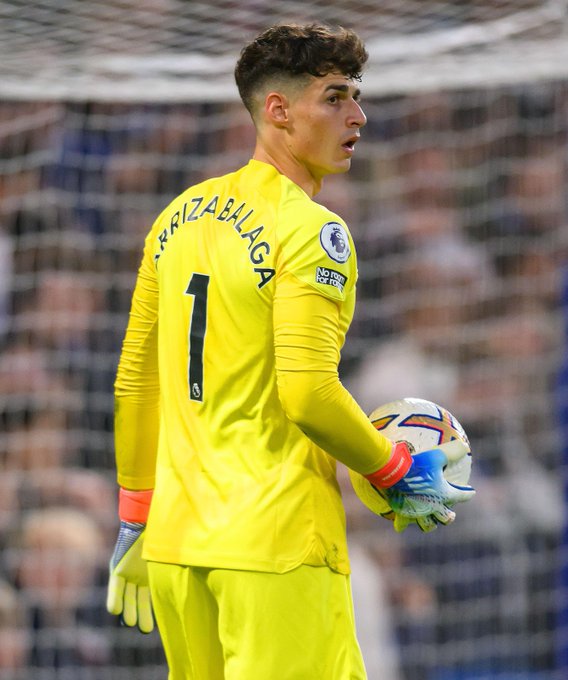 Due to his poor performance in goal that led to Manchester City's opening goal against Chelsea, Kepa Arrizabalaga has been accused of "match fixing" by Chelsea fans.
After a chaotic first half at Stamford Bridge, things quickly picked up, and City scored a goal thanks to a combination of Jack Grealish and Riyad Mahrez, who had just come on.
Mahrez was set up for a tap-in at the far post after Grealish found space down the left and sent in a teaser of a cross with his left foot.
From a City standpoint, it was a clean play, but the spectators had no idea what Kepa was doing.
The cross was near the Spaniard and didn't have much speed, yet he still allowed the ball to run. When Marc Cucurella fell asleep, Chelsea suffered the consequences.
Kepa didn't exactly cover himself in glory, as spectators yelled "match manipulation" in the crowd.
One Chelsea fan aggrieved over the blunder vented online asking the officials to investigate Kepa for match fixing:
"Investigate Kepa for match fixing cause I really can't get my head around that."
With another supporting the theory that the goalie fixed the match:
"We just witnessed Kepa match fixing but we're gonna blame potter after the game aren't we."
As it is common with social media hot topics, once an idea is sold, it becomes a trending subject for others to lash on, and following a third, fourth and fifth comment, the Kepa match fixing narrative became a theory Chelsea fans are contemplating.
"Did Kepa just choose not to claim that? Is he match fixing?" a third stated.
Another added: "Kepa match fixing or what? That might be the worst leave I've ever ever seen."
On the Spaniard's own part, Kepa Arizabalaga has been known to commit a lot of blunders while in goal for Chelsea from time to time; a situation that had to force the hand of the club to bring in Edouard Mendy.
However at the moment, the Chelsea number 1 and £71 million signing from Athletic Bilbao, currently seems to be the preferred option over Edouard Mendy.
Following its sixth loss of the year, Chelsea languishes in tenth place in the league.
After winning 1-0 in west London, City now trails league leaders Arsenal by five points.
On Tuesday, third-place Newcastle held Mikel Arteta's team to a scoreless draw at home, costing them valuable points.
On Sunday, City and Chelsea will face off in the FA Cup for the third time this season after also facing off in the Carabao Cup.
That is so, so poor from Kepa.pic.twitter.com/USKUGMdHNH

— FutbolChelsea (@FutbolCheIsea) January 5, 2023
Kepa selling us for Thirty pieces of Silver. pic.twitter.com/VEJyAQrDSJ

— Oscar (@MensahOscar) January 5, 2023
Once, fair enough. But twice in quick succession. You can't tell this wasn't intentional. #Kepa pic.twitter.com/UZzAv4xZfF

— Đ₳VłĐ ĐɆł₦ ₣₵ 🔴⚪🎗️ (@David_Dein_FC) January 5, 2023