#InaugurationDay: Watch Lady Gaga and Jennifer Lopez perform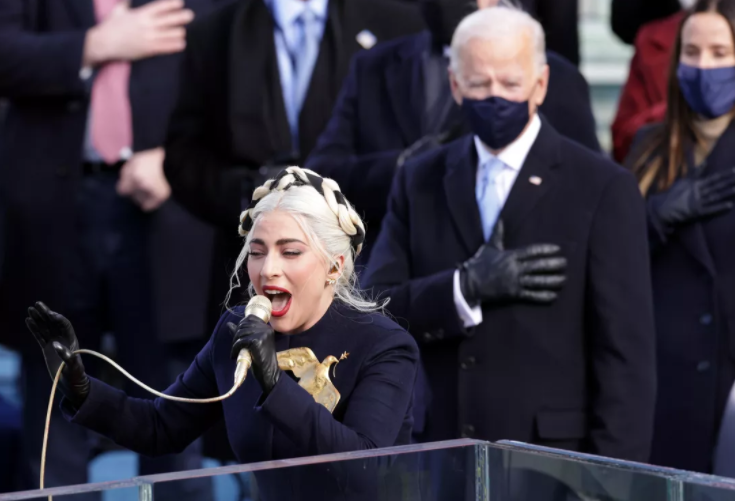 Top American singer Lady Gaga sang the national anthem at President Joe Biden's inauguration on Wednesday, and neither her voice nor her outfit disappointed.
The star singer made headlines Tuesday for a dramatic white outfit that reminded people of Star Wars heroine Princess Leia, but Gaga switched things up on Wednesday, appearing in a gown with an enormous red skirt and a huge pin of a gold bird.
On the afternoon before Biden's inauguration, Gaga shared a photo of herself in Washington D.C.'s Capitol, literally praying for a peaceful transition. "I pray tomorrow will be a day of peace for all Americans," she wrote. "A day for love, not hatred. A day for acceptance not fear. A day for dreaming of our future joy as a country. A dream that is non-violent, a dream that provides safety for our souls. Love, from the Capitol 🇺🇸"
Also on the inaugural stage, singer Jennifer Lopez sang "This Land Is Your Land." She then broke into Spanish, saying, "Una nacíon bajo Dios con libertad y justicia para todos." One nation under God, with liberty and justice for all. The daughter of Puerto Rican parents, Lopez's presence during the inauguration of President Biden and Vice President Harris is a game-changer.
Throughout her career, Lopez has forged a path for Latinx people across the world. In her acting and singing career, Lopez created space for others to follow in her footsteps, and given young Latina girls a role model who they could look up to and strive to resemble. Under the previous administration, when Latinx and Hispanic people were alternatively called "bad hombres," vilified, and locked in cages at the border, a Latinx woman calling for justice for all in Spanish speaks volumes.
DOWNLOAD TOPNAIJA NEWS APP
Share your story with us: Whatsapp:
+2349032253648
|
Telegram
|
Promote Your Music
Enjoy Complete Primary & Secondary Education Online CLICK HERE!