Buhari hosts Osinbajo and family on Christmas day [PHOTOS]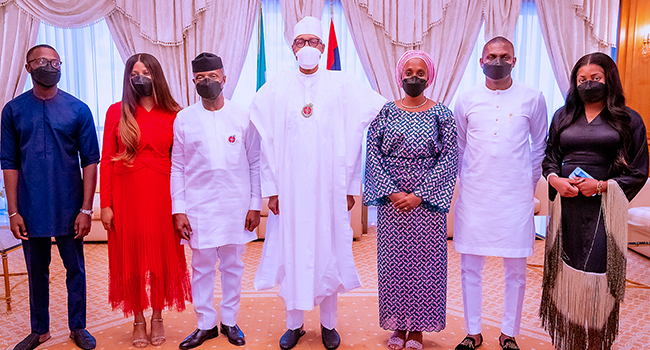 Nigeria's Vice President Yemi Osinbajo on Saturday paid a Christmas homage to President Muhammadu Buhari at the State House in Abuja.
The Vice President was accompanied by his nuclear family.
Below are photos from the event:
A thorough fact check on the Buhari/Osinbajo relationship since their common term in office is quite revealing. There have been several misleading claims but the major one has been the so called relegation of Osinbajo and his waning influence in the Buhari-led administration. B
Are these claims factual? Such analysts have pointed out to certain events and circumstances to back up their skewed narratives. But a thorough look at the facts on ground concerning the events they have used to their flawed narrative is quite revealing.
Buhari on March 8, during the 64th birthday of Osinbajo in a report passed a vote of implicit confidence which suggests a tacit endorsement of him for the big job.
His words: "I'm proud to have selected YemiOsinbajo as my running mate. He has given a good account of himself since our journey began in 2015,"
Buhari had also described Osinbajo as "a reliable and dedicated deputy''
Buhari stated that "Osinbajo is not only admirably competent but also exudes confidence and passion in the performance of his job".
According to the president, the vice-president is a cool-headed gentleman, who puts the interest of Nigeria above other narrow considerations.
"Vice-President Osinbajo is an incredibly patient politician, who demonstrates remarkable intellectual and mental energy in the discharge of his duties."
It is self-evident that Buhari not only has a good working relationship with Osinbajo but also has implicit confidence on him and his capacity. This may well be a tacit endorsement of Osinbajo by president Buhari for the big job in the days to come if you know what I mean.