VIDEO: Andrew Mwenda. Aid for Africa? No Thanks.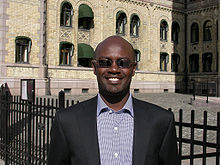 Andrew Mwenda (born 1972, is a Ugandan  journalist and the founder and owner of The independent , a current affairs Newsmagazine . He was previously the political editor of The Daily Monitor, a Ugandan daily newspaper, and was the presenter of Andrew Mwenda Live on KFM Radio in Kampala, Uganda's capital cit
Education
He attended Nyakasura School  and Mbarara High school , both in the Western Region  of Uganda, before attending Busoga College Mwiri in the Eastern Region.
A winner of the British Chevening Scholarship, Mwenda holds a Master of Science degree in development studies from the University of London's School of Oriental and African Studies and a bachelor's degree in journalism from Makerere University in Uganda. He was a visiting fellow at Yale University (2010), a fellow at the University of Oxford's Said School of Business (2009), a John Knight Fellow at Stanford University (2006–07), a visiting lecturer at the University of Florida at Gainesville (2005), and a visiting fellow at the University of Leiden's Africa Study Centre (2003).
In 2005, he was among sixteen senior journalists invited by the British government to discuss with Prime Minister Tony Blair the forthcoming report of the Commission for Africa.                        In the video below, he shares Aid For Africa? No Thanks. Watch