Ahmed Alimi wins 7th Edition of 7UP scholarship to study in Harvard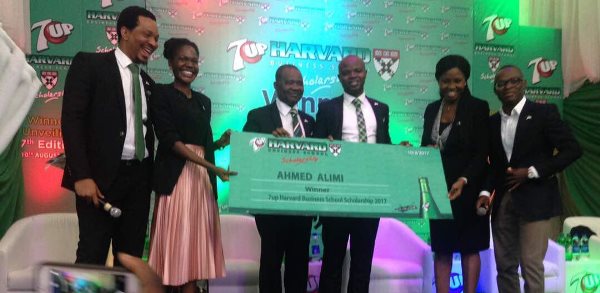 Ahmed Alimi wins 7th Edition of 7UP scholarship to study in Harvard
Mr Alimi Ahmed on Thursday emerged the winner of the the 7th Edition of Havard Business School Scholarship courtesy organised by 7UP Nigeria.
Shortly after his declaration, , said: "'I really appreciate the confidence reposed in me by 7UP Nigeria.
The competition started in 2011 with Miss Misan Rewani winning the maiden edition.
Mr Olujimi Williams won the 2012, followed by Miss Kuyoro Mayowa in 2013 and Miss Olaniyan Sola in 2014.
The 2015 edition was won by Mr. Bankole Makanju; 2016 by Mr Chiedozie Ibekwe.
Mr. Segun Ogunleye, Senior Brand Manager, SevenUp Bottling Company, addressed the audience at the venue in Lagos, followed by Mr. Steve Olayinka, the General Manager, Human Capital, of the company.
Misan Rewane winner of the first edition also spoke to inspire the the audience.
Family and friends present at the venue also celebrated with the winner