Kolawole wins, becomes Kogi Assembly speaker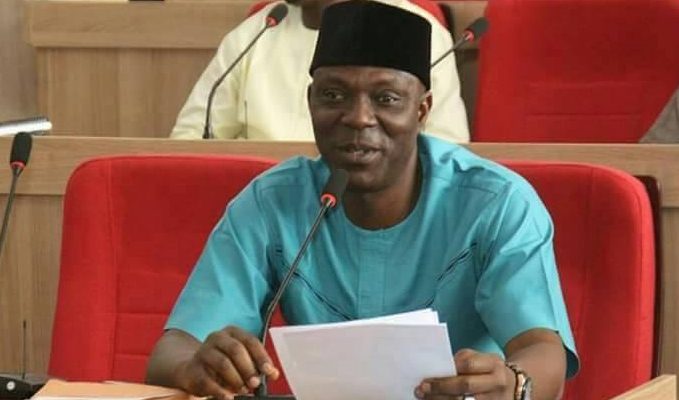 Yesterday, Prince Matthew Olusola Kolawole (APC-Kabba-Bunu) was elected speaker of Kogi House of Assembly, following the resignation of Alhaji Umar Imam.
Also elected at the emergency sitting of the House in Lokoja was Bello Abdullahi Hassan (APC-Ajaokuta) as the new Majority Leader and Victor Adewale Omofaiye (APC-Ijumu) as new Chief Whip of the house.
Following the adoption of Imam's resignation letter, Ahmed Mohammed (APC-Ankpa I) nominated Kolawole, former Majority Leader for the position of speaker, saying someone must fill the vacuum.
His motion was supported by Abdulkareem Kekere of Okehi state constituency. Kekere in turn nominated the new Majority Leader, Hassan (former Chief Whip) for the position and was supported by Mohammed Lawal Ahmed (APC-Okene I).
Ahmed equally nominated Omofaiye for the position of Chief Whip. This was backed by Oluwatoyin Lawal (PDP-Yagba West).
The new Speaker described his ascension as a privilege and the day, as a "Watershed in the political annals of Kogi state as it marks the beginning of another path to further consolidate on the progress so far made by this august House".
Kolawole commended the commitment of Imam to the house. He also pledged his "strong determination and resolve to rally this noble House for a common cause aimed at raising the bar of socio-political and economic development of our state".
Deputy Speaker of the House, Hassan Abdullahi (APC-Dekina/Okura) commended Imam for the maturity displayed saying, "If we must tell ourselves the truth, we will know that we have lost a leader.
"The leadership quality of Imam is something near perfection but we know that even our lives don't last for ever. Everything has a terminal date."
The Deputy Speaker advised Kolawole to borrow a leaf from Imam's leadership qualities and work hard to earn the confidence of members, saying that the house had enjoyed relative peace under Imam.
Imam who spent one year, one week and one day in the saddle as speaker said in his resignation letter "I am resigning from the office to avert plunging the state into further crisis.
"Within the same period, I have revamped the integrity of this noble institution and redirected it on the path of honour and in line with the democratic principle of Separation of Powers.
"What transpired last Tuesday during plenary, thugs desecrating the sanctity of this hallowed chamber, was undemocratic, an act of hooliganism, a criminal act and attempted murder" Imam said.
The crisis which engulfed the house over leadership struggle reached a climax on Tuesday when hoodlums invaded the house and unleashed violence, disrupting the plenary.
Credit: NAN