Over 30 Children dead in Indian Hospital after Contractor cut off Oxygen supply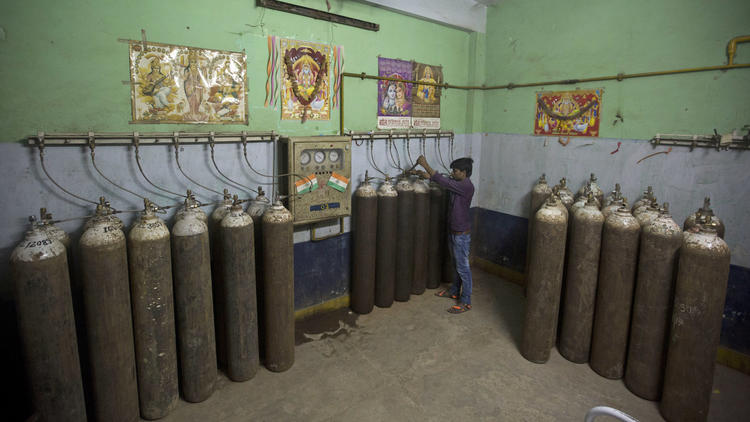 About 30 children and counting have died at a hospital in the northern Indian state of Uttar Pradesh after the supply of oxygen in the hospital was disrupted over an unpaid bill, Hindustan Times reports.
Some witnesses confirmed that the chaotic scene started between 11 p.m. and 2 a.m. on Saturday as medical practitioners and relatives went into a frenzy when the private contractor Pushpa Sales, stopped supplying oxygen cylinders and the tanks started running dry.
The hospital staff then started handing out manual resuscitator bags to families in a desperate attempt to save the young patients.
Unfortunately, by this time, most of the patients started collapsing due to the inadequate oxygen supply.
A father of one of the victims said
We saw children dying around us. Obviously, it's the hospital's fault. So many children have died because of them. My son was fine until nighttime, then something wrong happened.
The newspaper said doctors made frantic calls to the supplier to restore the oxygen supply as the children started dying, but the limited supplies quickly depleted.
A statement by the Chief Minister of Uttar Pradesh Yogi Adityanath, said that about 60 deaths have occurred at the hospital's pediatric ward over a five-day period starting on Monday.
Twenty-three children had reportedly died on Thursday when the pressure of the liquid oxygen supply became low and 52 reserve oxygen cylinders were pressed into service.
The shortage of oxygen allegedly led to encephalitis, which is a sudden onset inflammation of the brain, following which the children died.
This, however, is not the first time the oxygen supply was disrupted by the company. The company had also cut supply in April last year.
Now Baba Raghav Das Medical College Hospital has run up debts of $6.9m Indian rupees ($107,000).