TopNaija Stories: Isima Odeh, Founder, Africa Facts Zone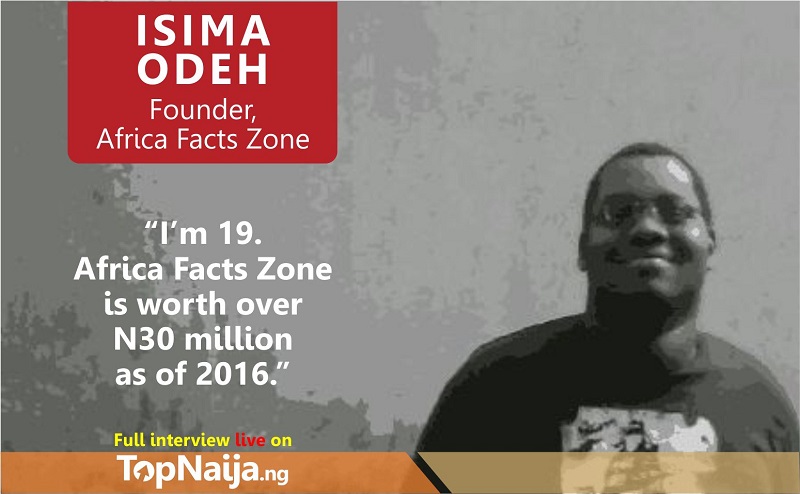 In the rising of stars, times and seasons are very vital. Isima Odeh is one of those rare few who discovered his strength very early and has mustered the courage to focus irrespective of distractions. At 19, the social media influencer has created powerful digital assets, including the widely popular Africa Facts Zone, that are making a difference globally.
In this interview with TopNaija.ng's Isaac Oladipupo, Isima shares exclusively on how it all started and how he got here, and his future plans. Be inspired!
Hello Isima, can we meet you?
I was born on March 7th, 1997 in Warri, Delta State, but I'm from Benin City, Edo State. I'm the last of three children, I love my privacy, information and business and I'm not materialistic. I attended Charity Group of Schools in Salem City, Warri.
Tell us, when did you stumble on Social Media and how did your foray into the terrain begin?
I first gained access to Facebook in 2009, and immediately I joined, I knew I wanted to make an impact on Social Media that would be felt worldwide one way or the other. I was a huge Ben 10 and wrestling fan as a child so that's what I wrote about then. I created a wrestling group and page. That was when I started to fantasize about sharing information online to a large audience and I achieved that.
What inspired creating AfricaFactsZone and what were you doing before then?
Before Africa Facts Zone was created, I had other facts handles. The idea of AFZ came to me in July 2013 and yes some people were against it, out of ignorance. I created Africa Facts Zone to share refreshing facts about Africa and Africans in a modernised way. Before Africa Facts Zone was created, I was a Blogger, known as the "Blogger of Life" to my blog readers on isimaodeh.wordpress.com, I was Africa's youngest notable Blogger then in 2013. I was also a fast rising online publicist and now I'm one of the world's leading publicists.
What are the key challenges of running such platform?
Our major challenge now is a high budget, we make from ads and research services we render via our platform, but we also spend a lot on data tariff, magazines, newspapers, and other information materials. We are also working on our app. We used to have an issue with lack of sufficient outreach, but that issue is gone because those who refused to pay attention because they thought we'd go into oblivions are fans now (smiles).
Do you handle run content and posting on your platform yourself or you have people do that for you now?
We've had several admins and contributors from different countries, but they are all now taking a break or working on my publicity brand, Isima Promotions. But, I can't take any day off – this is what I love to do!
Please give an account of the journey so far since the launch of your company; what did you at every point to build it into what it is today?
Well, the journey has been long and it's still on, we've gone from being a small platform to attracting the attention of top media platforms in Nigeria, South Africa, England, Belgium and more. Even on Twitter, we are close to breaking a Trendsmap world record. Africa Facts Zone is the world's most up-to-date facts platform and will only become bigger when the Africa Facts Zone app is released.
How has AfricaFactsZone affected lives in Nigeria, and how many people have benefited from this project?
There are over 20 team members on Africa Facts Zone, hundreds of Nigerians and other students have mostly benefited from Africa Facts Zone's info services, as we've a vivid breakdown of facts about the history, culture, and records of African countries in short posts. We've had several people contacting on Twitter, Facebook – even on WhatsApp and BBM especially JAMB students who wrote Government or History students in higher institutions.
Can you share some of the challenges that have shaped who you are today?
People looking down on me really encouraged me to work so hard, that when they see me in the future from a long distance, they wouldn't even dare come close to me now, they've already started apologizing.
Currently, what is the people strength and current value or net worth of your company?
Africa Facts Zone is worth over N30 million as of 2016 based on online value. It's going to increase by miles in 2017.
How old are you and at what age did you start your business?
I'm 19, my first business attempt was made when I started renting books in my library aged 10, my sister found out and made me stop (laughs). I started making money from online publicity in 2013. But, I've always been active in business since I was 10, from renting books out to researching to working on growing my brands online to organizing shows to online publicity.
What do you consider as your personal success secrets?
Never stop learning.
Name 3 men you admire and why?
Albert Einstein – for his intelligence
Oluwaseun Osewa – for his resilience.
Kris Sanchez – for his simple way of doing things.
What is the greatest lesson life has taught you?
The greatest lesson life has taught me is to humble myself, before it does because nobody will leave this life without being humbled by death, and after that judgement from God follows.
What are your biggest achievements of 2016?
My biggest achievement of 2016 is being nominated for the award for Online Personality of the Year at the 2016 UGossip Digital Awards.
Exchange your Bitcoins & Perfect Money to Naira - Get Paid Automatically in 10 Seconds!
Follow us on Instagram
|
Advertise With Us
|
Promote Your Music