Senate calls for investigation into N726 billion East West Road contract.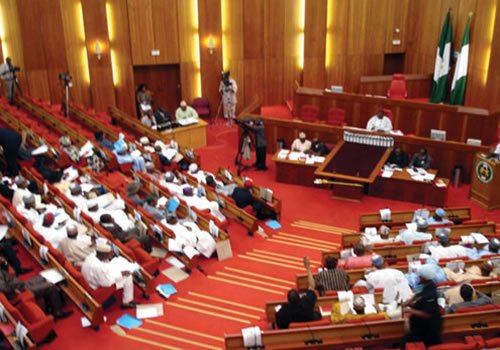 The Senate has expressed concern over non-completion of East West Road construction awarded for N726 billion after eleven years despite its importance to the nation's economic base.
In a motion sponsored by Senator George Thompson Sekibo representing Rivers East Senatorial district, he recalled that the road which was awarded in 2006 by late President Musa Yar'adua for N211 billion was not properly funded.
He added that the exigencies of the terrain made former President Goodluck Jonathan to review the same 675km dual carriageway with additional 23.9km to N726km.
"Mr. President, distinguished colleagues, we recall that the former President, Goodluck Jonathan, after the production of engineering drawing revalidated the contract sum from N211 billion to N726 billion and re-awarded the contract," Sekibo averred.
In his contribution James Manager representing Delta South Senatorial district decried that the construction has not reached 50%.
"Mr. President, distinguished colleagues, the road which was awarded before the creation of the Ministry of Niger Delta by late President Musa Yar'adua eleven years after has not achieved 50% progress due to funding constraints", he noted
Senator Magnus Abe on his part, called for immediate intervention to avert the wrath of Niger Deltans, saying the situation was already creating ill-feelings.
While commending the Niger Delta Development Commission for the effort at making the road passable, he further decried that there was no adequate budgetary provisions in 2017.
Senator Kabiru Marafa explained that there was suspicion in the funding pattern, hence the need for investigation.
"Mr President, distinguished colleagues, I was privileged to be a member of ad-hoc Committee investigating the project at a time. We discover that it was charged for $7 billion per kilometre and I think we should investigate the funding pattern", he said.
In his ruling, the Senate President, Bukola Saraki upheld resolutions for the investigation while referring it to the Committee on Niger Delta.