Photos and video of Justina, the UNIPORT student killed and butchǝred by her boyfriend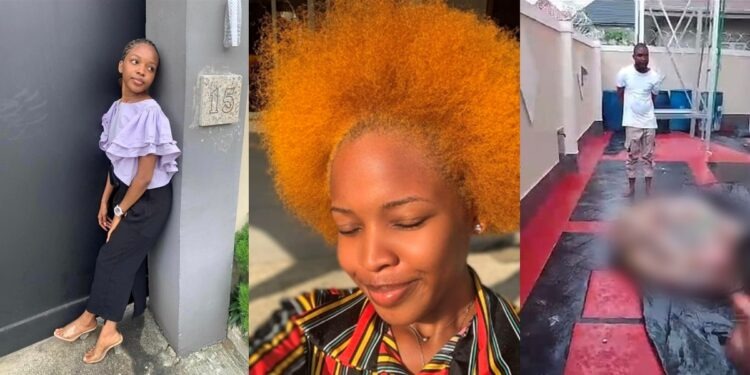 Photos of Justina Otuene, a 300-level Biochemistry student at the University of Port Harcourt, who was reportedly killed by her lover, have gone viral on social media.
When Justina's lover, Collins, a 400-level student studying Oil and Gas at the same college, was found trying to dispose of her corpse, the awful news of her untimely death became public.
Collins was captured by estate security while attempting to dispose of her body after cutting her to death and removing her eyes and breasts for ritual reasons.
This heinous crime took place at his residence on Road 15, NTA Road, Port Harcourt.
Following the security guard's terrible discovery, people invaded the suspect's flat, where they discovered Justina's body parts in bags, oozing with blood.
Watch a video of the scene below,
[GRAPHIC WARNING]
Photos of the deceased has now been shared online, along with a video of her having a playful banter with her killer boyfriend.
Watch below,
It's worth noting that the beautiful young lady took to her Facebook page only two weeks ago to celebrate her birthday.
Justina had been declared missing by her colleagues after she suddenly disappeared. See the missing person poster below,
Meanwhile, friends and colleagues of the deceased have since taken to social media to mourn her premature death.
A Facebook user who knew the deceased wrote,
"So I woke up this morning by 2am , couldn't sleep only for me to go online to see this sad news of otuene justina nkang we all schooled in assi.(Anglican secondary school isiokpo) a boarding house I was in shocked with tears in my eyes because I was also a friend to her brother back then otuene mbere the same class, that girl was so young then I still can't believe this am just in shock That she was killed by her Yahoo boyfriend Rip Tina God should please help us and keep us safe."