Ogun, GIZ-SEDIN partner to leverage ICT for e-commerce success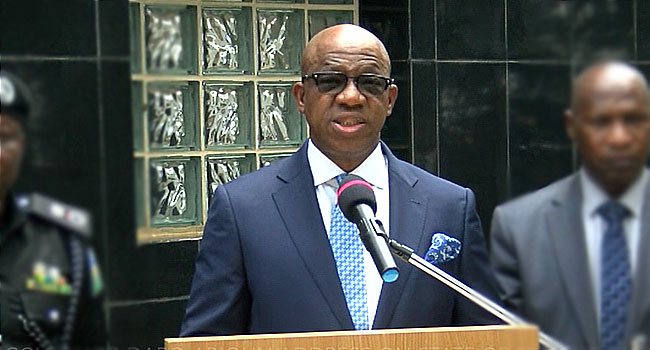 The Special Adviser to Governor on ICT, Mr. Dayo Abiodun made this assertion while addressing pressmen at a-day workshop on boosting e-commerce through ICT, with the theme "Validation Of the ICT/E-commerce Value Chain Gap Analysis Report", held in Abeokuta.
He noted that as a result of pro-poor growth and promotion of employment in the country, it is imperative to improve the employment and income situation of MSMEs through improving access to finance and business services, to support entrepreneur in Nigeria.
"Indeed, with the state population of almost 5 million people and large land base, is uniquely positioned (both geographically and economically) to become a major industrial, logistics and now technology hub in the country.
"And from a prior stakeholder workshop held at the beginning of the year, has identified ICT and E-commerce as a priority value chain in the State, so, this is led commissioning and completion of a gap analysis on this aspect of the State's economy, with a view to understanding the challenge and opportunities for MSMEs and other stakeholders operating within it", Abiodun said
One of the facilitators, Mr. Bernard Siwoku implored the Bureau of ICT to collaborate with private sector in ensuring regular sensitization of the public on the importance of ICT and E-commerce, noting that with this youths would be encouraged to learn the skills to grow the ICT and E-commerce value chain sector.
He said that by using the power ICT to boost agriculture and processing should be of great focus to GIZ, adding that GIZ and the State government should endeavour to introduce the primary and secondary school children to some professional ICT and E-commerce skill from that very young age.
Earlier in her speech, the Director, Bureau of Information, Ogun Tech Hub, Mrs. Olatundun Adekunte, said that the State had made tremendous efforts in the development of ICT in promoting innovation and entrepreneurship in the area of agriculture, health, education and manufacturing, so as to be at the frontline among her counterparts.
She said that importance of ICT in governance could not be overemphasized , saying that conscious effort has been made to bridge the gap ICT/E-commerce value chain gap within the State to ensure its maximum benefit from ICT.
"In fact, you need to look back through cumulative period of 10 years to the present administration-led by Governor Dapo Abiodun, we have adopted as a state; business strategy and value tools to prioritize the business needs of the State citizens by helping the government to spot its strength, identify deficiencies, uncover gaps and learn how to address pressing issues in order to achieve success through the use of business models", Adekunte said
😎PASS WAEC, JAMB-UTME, NECO, BECE IN 1 SITTING. GUARANTEED HERE💯
WIZKID: A LOOK INTO THE SUPERSTAR'S LOVE LIFE