Nigeria Must Create Four Million Jobs Annually, Says Ambode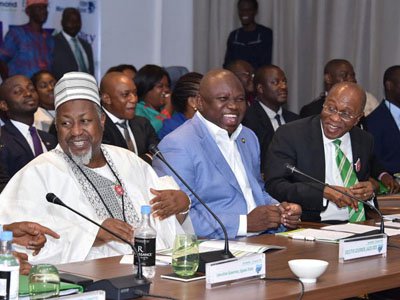 •Asks CBN to reduce lending rate
Lagos State Governor, Mr Akinwunmi Ambode yesterday said for the country to meet its growth ambitions and achieve full economic potential, efforts must be made to create at least four million jobs annually.
Speaking at the opening session of the 9th Annual Bankers' Committee Retreat of the Central Bank of Nigeria (CBN) in Ikeja, Lagos, the governor said it was time for the government to review such policies that inhibit growth. He called for a well-functioning low cost financial system that will work for all.
He described the theme of the retreat – "Improving Financial Access, Enabling Job Creation and Driving Inclusive Growth in Nigeria," as apt, saying same was at the heart of the nation's economy and are important determinants of the country's future prosperity, but that all hands must be on deck to create more jobs for the people and ensure 6.7 per cent annual growth rate.
According to him, "To meet our growth ambitions we need jobs. Figures from the National Bureau of Statistics show that in employment terms, from a labour force population of about 81million people, we currently have 11.5million people unemployed in Nigeria and 17million people under-employed with the total employment is around 52.6million while the working age population grows by 3.7 per cent every year. So, to make a meaningful dent on un-employment and underemployment, and to reduce poverty (which is at over 60 per cent), we need to be creating at least four million jobs per year.
"Where do banks fit into all of this? Well, the reality is if we do not have a well-functioning banking sector, all of this is not possible. Both investment and day-to-day commerce requires the intermediation of banks. And while someone outside of the formal financial sector can in some cases make a living, the reality is that incomes of the bottom of the pyramid are increased when we have better financial inclusion but we are not there yet."
The Governor, who alluded to the strategy adopted in Kenya to deepen financial inclusion, said efforts must be made to ensure low cost access to banking services especially through mobile money.
He said it was painful that mobile money had been so slow to take off in Nigeria despite huge population, saying it remained very low, increasing from just 0.7million adults in 2014 to 0.9million in 2016, despite the fact that there were about 58.2million people who actually had mobile phones in 2016.
Ambode challenged the CBN, the Nigeria Deposit Insurance Commission (NDIC), commercial banks and other players in the financial system to decide the type of financial system that will really impact on employment and bring more people into the formal financial system.
According to him, "This is where we should focus as a nation not the type of directives or decisions that actually try to stifle growth and commerce. One clear example is this; as a State Government, I want to take a commercial loan from the bank and they tell me I should go and get a letter from Debt Management Office (DMO); I should get approval from the Federal Ministry of Finance; I should go to CBN and so on. Who does that?
"You want to accelerate growth and everything that I am doing even when I take loan from the bank; when I do bond and so on, I am only trying to reflate the economy. Each construction site that you see in Lagos, I am trying to create employment at the lower level so that the artisans, the bricklayers and so on can go home with N5,000. I need to do something in Badagry to make the people stay there and not come to the central Lagos and when you take the extra money outside the IGR, you are actually trying to help the economy to reflate itself and that is why you are able to excite yourself with the growth that you have seen in the third quarter that we say is 1.5 but that is not the number that we want."
Responding to earlier comment by the CBN Governor, Mr Godwin Emefiele on the inability of the Micro Small and Medium Scale Enterprises (MSMEs) to access the N200billion fund earmarked for them, Ambode said the easiest way to achieve same was to reduce the lending rate to about five per cent or lower.