#IkoyiCash: Whistle-blower receives N421m, exits Nigeria immediately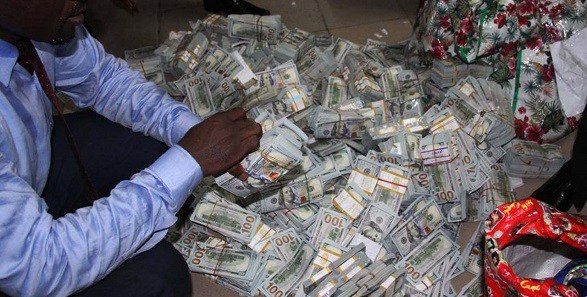 The whistleblower who assisted the Economic and Financial Crimes Commission (EFCC) recover some monies in an Ikoyi apartment in Lagos has reportedly been paid part of his commission.
According to PUNCH, Yakubu Galadima, the whistleblower's lawyer, confirmed the development on Wednesday.
The monies which included $43m, N23.2m and £27,800 (N13bn) were discovered in the apartment on April 12, 2017.
The whistleblower is due to get N421m reward from the recovered funds, according to the whistleblowing policy.
The man was also said to have travelled out of the country "less than 24 hours" after receiving part of the reward.
"My client confirmed to me that he had received a credit alert from the federal government. He travelled out of the country this morning (Wednesday morning)," he was quoted to have said.
While praising the federal government for finally honouring its agreement, he was also quoted to have said his client has not been paid in full, but that the government had promised to pay him the balance next year.
Galadima added: "He has been paid the first instalment but there were many tax deductions.
"Yes, we are happy. I will give you more details later but I can confirm now that he has received some money."
Long after the court ruling ordering the forfeiture of the discovered funds to the federal government, there was public outcry when it was learnt that the man has not been paid the commission.
Itse Sagay, chairman of the presidential advisory committee on anti-corruption (PACAC), later rose to the defence of the government when he said the man "may run mental" if given such huge sum of money.
"What I gathered from my inquiry is that the man is not sufficiently stable to receive such a huge sum of money. He is like someone who will almost run mental when he gets the money and will use it in an irresponsible manner, attracting not only undesirable people but even danger to himself," he had said.
At least three persons had laid claim to the commission not long after the monies were recovered.
But Galadima reportedly said the payment of the money to his client shows he is the authentic whistleblower.