How Pope Benedict XVI Emeritus Will Be Buried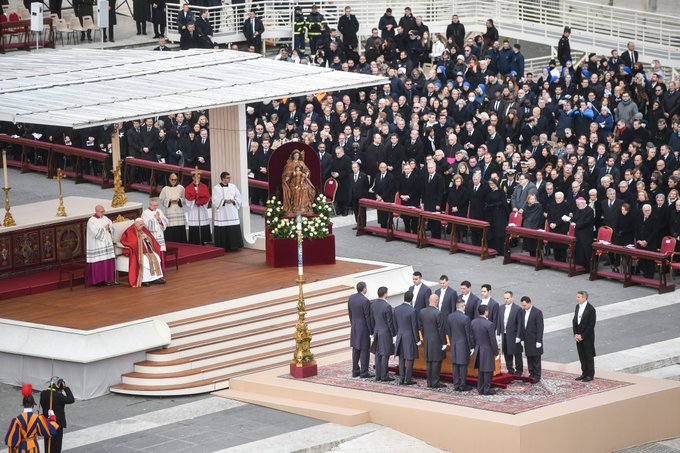 Following years of service to the Catholic Church, Pope Emeritus, Benedict XVI decided to take a back seat from Papal duties when he tendered his resignation as Pope to the Catholic Church, some years later, the Church announced the Pope's passing with funeral arrangements for the late Pope Emeritus.
The manner in which Pope Emeritus Benedict XVI will be buried on Thursday has been made public by the Vatican.
Its official Twitter handle posted the information in a post.
According to the Vatican, the casket of the Pope Emeritus was closed on Wednesday in accordance with custom.
Recall that emeritus Pope Benedict XVI passed away on December 31, 2022. He was born Joseph Aloisius Ratzinger on April 16, 1927, in Marktl, Southeast Germany. At 95 years old, he was. He had had a dramatic fall in his health prior to passing away due to advancing age.
"Pope Emeritus Benedict XVI's coffin was closed in a ritual held Wednesday evening. As per tradition, the Pope Emeritus' pallia, coins and medals minted during his pontificate, and a 'rogito' summarizing the highlights of his papacy, were also placed inside the casket.

"Following the Requiem Mass, Pope Emeritus Benedict XVI's coffin will be transported through the Basilica and to the Vatican crypt for burial, in the first tomb of John Paul II.

"He will be buried in the traditional triple coffin, with caskets made of cypress wood, zinc, and oak," part of the statement read.