Erling Lands at Manchester City: The Beginning of the End for the Premier League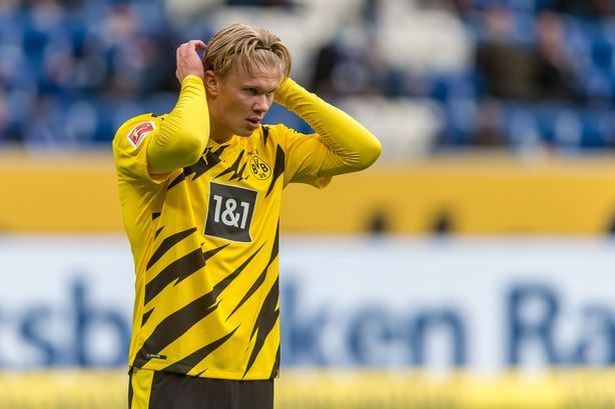 We all knew Guardiola was angry at losing the Champions League Semi final after being minutes from winning and progressing to the final, but him taking the frustration on the whole of the Premier League by bringing in Norweigian assassin, Erling Braut Haaland, leaves everyone in the league at his mercy.
Can you imagine the link up play between De Bruyne to Foden, Foden to Haaland, Haaland back to De Bruyne and vice versa?
That's definitely game over for whichever team that has any interest on the league. It takes away fair play from the equation, seeing a midfielder renowned for being the best playmaker in the league, be paired with the most prolific striker in Europe, in the same team with high pressing monsters who bully oppositions by stealing away 90 percent possession, and leaving them with only 10 as compensation, is just so wrong.
In an ideal world someone would be sued for a foul play such as that.
How does anyone play against that team, let alone compete with them for the league title? There is already the debate about the Premier league slowly loosing its value and prestige, falling under the criticism other leagues in Europe have; the lack of worthy competition.
Of course, people might debate that Jurgen Klopp's Liverpool has kept the pace and put pressure on Manchester City in recent years without it looking like the Arab owned club was just walking away with the title season in season out.
But if we are to take into consideration the fact that City in the last 5 seasons have won 3, which soon enough will be 4 come end of the season whereas Liverpool only has 1, then it stands very much as no debate seeing as there really is no competition, just the illusion there is.
And Manchester City bringing a prolific striker, in his prime to toe with a legendary playmaker such as Kevin De Bruyne in a team that plays fantastic and exciting to watch football above any other, then it simply can be said to be over for anyone hoping to challenge for the league title in years to come. A dynasty is being built, and the whole of the Premier League is about to bear witness if not surrender to it.
Pep Guardiola could end up being right at the end, because the whole of England would hate Manchester City for this conquest. Time though shall time. But for now, Erling Haaland is on his way to England.