How comedy found me – Basketmouth reveals on TopNaija Stories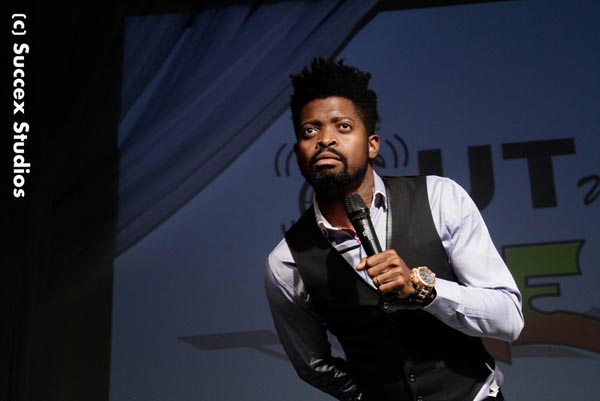 Some call him the most hilarious comedian in Nigeria, while others simply regard him as The Lord of The Ribs. He is one of Africa's funniest men who has proved himself over and over again… Basketmouth's talent has led him all the way from the tough streets of Ajegunle to comedy's center stage. Bright Okpocha opens up to Isaac Oladipupo on finding comedy…

Thinking back to your childhood, what was the definite major career you desired to pursue?
My memory is quite dusty, but every child's dream including mine was to become a Doctor, Pilot, Actor, Musician etc. I know I used to live in a world of fantasy back then. At a point, I wanted to be a comedian after I watched Eddy Murphy's Delirious. That career was what I lived with more as it wasn't far from my reach because I was a funny lad with funny stories and the one always making people laugh.
When did you first know you were funny?
I still don't think I'm funny because I really don't make myself laugh as such. I just knew I was funny to people when I noticed that my gist always brought a laughter or two.

At what age did you venture into comedy professionally, and what inspired the decision?
I started professional comedy when I was 21years old. There was no decision, it just came through naturally, it was basically a case of time and opportunities.
More than just funny—you take difficult subjects and make them entertaining. What gives you the nerve to delve into the hard stuff that way?
The hard stuffs are surprisingly the funniest. They are generally too serious so no one is seeing the comedy coming, that's why it's a job. Aside that, I love the challenge, I love the task. It actually makes me stronger, mentally that is.
Aside making people laugh, do you pass any other message across whenever you crack jokes?
Obviously I do that. Every joke I crack has its moment of truth, reality and lessons behind it. I make sure there's always an element of substance that people can relate and reflect on when similar events occurs.
You are undoubtedly one of Nigeria's most sought after comedians. What's been responsible for your consistent success in the industry?
I don't consider myself successful yet because I've not achieved 90% of my dream; I've not done anything close to what I've dreamt about. The web and a couple of international events exposed my name and materials. My age, style, and physical appearance also made it easy. I blend into both worlds -old and young, so it made the exposure larger.

What stands you out from Nigeria's fast increasing comedians?
Well, my kind of jokes. I'm limitless with my way of thoughts, creativity, and how spontaneous I can get. I think it might be the name as well, I try not to do what everyone is doing. I make sure I do it differently and the way I love it. I like taking risks with my jokes and my shows, I'm always ready to get it wrong and ready to loosen. The interesting part is that I also hate getting it wrong or failing.

You once tried your hands on music, why did you eventually back out?
I didn't back out, I was experimenting. I still experiment whenever I find the time to.
Comedy or music, which is more tasking to do?
Comedy is most tasking, far more tasking than music in a way. Both demands a high level of creativity, but with music the musician can go on stage and repeat the same song for two years. A comedian can't crack the same jokes that long. When a comedian keeps repeating a joke, people tend to react negatively to it, even when it is classic. So we always try to be fresh….well, at least some of us.

What inspires your jokes and how do you compose them?
I get all my jokes from my environment. I do a lot of research too. To me, every incident is a potential joke.
Tell me about your worst experience on stage?
That was three years ago, it was the first and the last by God's grace. I was experimenting a new style of delivery and wasn't prepared. I guess I got it wrong there. It was at an edition of rhythm unplugged.
Someone once said it is difficult for Nigerian comedians to make Americans laugh and vice versa, what's your opinion about this?
As long as a comedian's joke is universal and not based on culture and all that, you can make any English speaking race laugh. I've performed for the mainstream overseas, US, UK etc, and they laughed at my jokes, so I think it's not difficult if you know what you're doing.

What are you up to at the moment?
I'm working on my new show (Lords of the Ribs) and a couple of other gigs in Naija and abroad. But my most demanding project is the one I just mentioned as I'm featuring some foreign comedians.

Has comedy been worthwhile and fulfilling for you?
Well, I'll say yes, but as we all are, we yet want more. I'm one of the hungry comedians I think I know, never satisfied, always on the move. But so far, it's been great, but I yet want the greatest.

Aside comedy, what other jobs pay your bills?
I run a company called Barons World Entertainment. We provide content for companies, we also manage events as well, and it's not been bad so far. Still looking for more clients though.
I learnt you recently bought a house on the Island. Do you like to share the joy?
Well, I'll rather not talk about that. My mates have done bigger and better things than buying a house.
Tell me about your weirdest experience with a lady?
I don't consider any moment as a weird one with a lady, I call them an interesting moment, which happens often. One was a long time ago, a girl I was toasting was wearing a wig and doing the dutty wine. She was presumably tipsy as she wasn't supposed to do that. I had to pick up the hair eventually.
Leverage social media to make more money and grow your brand in 2019! Attend The Social Media Wealth Masterclass with Isaac Click here to ENROL NOW!
Follow us on Instagram
|
Advertise With Us
|
Send Us News Tips
|
Promote Your Music
Yomi Black & Toke Makinwa continue their drag season, Yomi responds
Filmmaker, Yomi Black, has replied Toke Makinwa who dragged him on her IG page over his controversial post about her.
Trouble started on Sunday, December 8th when Yomi Black reposted an Instagram post by Digital marketer, Soji Ogunnaike, who dared the media personality to openly show how she can afford her lifestyle.
Toke Makinwa found Yomi's post distasteful and took to her IG page to drag him, sharing screenshots of his meassages to her.
The media personality disclosed that they fell out after he asked for free TM bags for a product placement on his production which she turned down. Toke who recounted feeding Yomi's crew while on his movie set, added that he has always taken and has never given anyone.
Toke Makinwa wrote;
Excuse me while I drop my crown for 5 minutes.
Inside life…… this life is a pot of beans. Now this is a public service announcement, if I have ever supported you with my time, platform, money, and more pls don't ever come for me. You look stupid when you try. Some of you will be all up in the DM looking for favors yet want to sound Intelligent in these SM streets. Should we really tell Nigerians how you went from licking my ass to dragging me online?

This world we live in is strange, I have messages from you like this one, I would usually look away cos you are not the first but Yomi, you ungrateful fool, I have worked with you on projects with only a promise of "i"ll pay you back when we find sponsors", which you never did, and I let it go, I have stuck my neck out for you when stylists, designers and the likes wanted your head on a platter cos you made them work without pay, when all you had was a dream, I was willing to support you with my platform, I have fed cast and crew on your shameless sham of a set and you have the nerve to come for me????

I have receipts of how much of a loser you are but I'll leave this one here, you asked for free TM bags for a product placement on your production which I turned down cos I'm sorry your platform does nothing for me, and I am running a business, I asked you to pay for it and you got mad, you've always taken but never given to anyone, who have you helped??? Who have you supported?

it's always been the other way round, you couldn't get a freebie and now i am your enemy? Tell me, if I'm everything you say I am, why do you want to associate yourself with me? I was such an inspiration to you in private huh???? See my people hustle oooo so you don't go from "you're such an inspiration" to this #MCM #yourmcmisreaching
Well, Yomi took to his IG page this morning to reply her. Read his response below
On this issue, I would like to say I understand why Toke responded the way she did.
The bloggers set a trap for her and she fell for it.
I admit I saw Soji Ogunaike's comment on Instablog and I thought it was very interesting, especially since Soji dared her to show how she made a living.

I shared it because I really thought there was a lesson there.
In the post I made it clear that it was copied from Soji Ogunaike, but the bloggers reported the story and cropped out the credit to insight a war between Toke and I. They even made the headlines more interesting by saying I (Yomi Black) dared her to show how she earns her living.

The truth is Toke and I go way back, because of our friendship, we have done a few projects in the past. As a young entrepreneur, you have to leverage your friends when you are growing.

All of those projects benefited both of us in many ways, I remember at least one that benefitted us financially (a YouTube video campaign for Chicken republic in 2013). I also remember that I did a series of photoshoots for her to launch her Vlogs on YouTube.
Fast forward to 2017, I was creating a big budget Tv series #MRBADMUS, I had loads of opportunities to promote products, and naturally I thought of my friends doing well. I reach out too many of them and offered to promote their brand on the TV show for free. I reached out to Toke especially because I wanted to compensate her for some of the projects we worked on in 2013 that did not yield financially, but at that time, Toke was at the peak of attention, so I am guessing she didn't need it.
So naturally I gave that opportunity to someone else.

The truth is I do love Toke and her ambition inspires me, only a few people can do what needs to be done to get the Job . I am one, so I know the scarifies.

Toke asked me a question that got me thinking "who have you helped?" The truth is I am a pillar of support to many people, and I do it without the cameras.

Finally, I will say to Toke, I do not take offense with your backlash, I understand that the bloggers are to blame, I only wished you used that opportunity to tell us how you really make a living. Especially for the young ones watching".
Leverage social media to make more money and grow your brand in 2019! Attend The Social Media Wealth Masterclass with Isaac Click here to ENROL NOW!
Follow us on Instagram
|
Advertise With Us
|
Send Us News Tips
|
Promote Your Music