Bose Adekunle – I Am Grateful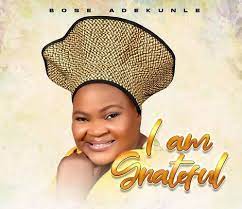 Gifted Nigerian Gospel song artist, Bose Adekunle dishes out song titled I Am Grateful.
Gratitude is an attitude of victors, we just have to be grateful because God is too faithful.
I Am Grateful official video drops on my YouTube channel 12:30pm today by God's grace, please my families kindly support me by reaching out to my channel, share, comment, like, watch and subscribe. Things of gratitude shall not cease in our homes in Jesus name.
I Am Grateful full album is available on all digital stores and music stores Nationwide.
Download, listen and share your thoughts below:
Biography:
My name is Bose Adekunle, born to the family of Late Pastor Jacob Adeleke Salako Assistance General Evangelist CAC worldwide (rtd 1993), my mother L/E Rhoda Ade Salako. I hail from Iwo in Osun state, I'm happily married to my best friend Elder Sunday Adekunle, and we are blessed with twins and many spiritual children. I studied Microbiology, but receiving and composing song through the inspiration of the holy Spirit is my God's given talent.
I Am Grateful is my sixth album, I did His Mercy in 2006, Omnipotent Reignet 2008, I plead both audio and video 2009, Aso ogo mi both audio and video 2013, Dominion 2018, and I Am Grateful 2021
Follow me as I follow Christ on my social media, YouTube/Bose Adekunle, Instagram @iamboseadekunle, tiktok @iamboseadekunle, Facebook/Bose Adekunle, Twitter @praisewithbose. I Am Grateful is available on all digital stores and music stores Nationwide